Last night I went to Win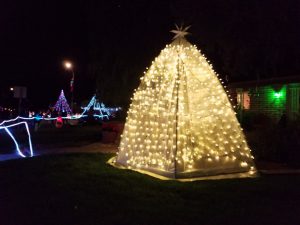 terhaven. It's a light festival held annually here in Tucson. It's beautiful. I didn't get to go here previously so I'm glad that I eventually gave it a visit. I don't have a car so it's a bit hard to get here on my own. But thankfully last night a friend asked me if I wanted to go here so of course I said yes 😊
Anyway, as the name suggests, it is held in winter time, around Christmas. It takes place in one of Tucson's neighborhoods where the people decorate their house in such a way with lights and other adornments. Some put Santa. Some design their own mistletoe. Others decorate their houses and yards quite uniquely as
well.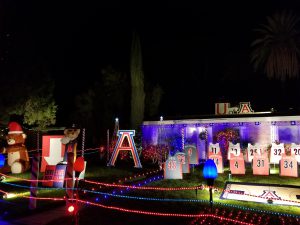 You can see some of the photos here. Too bad that I'm not really a pro at using the cameras (it's just my camera phone anyway 😀 ), but you can imagine how wonderful it is to witness in person.
What I don't like about Winterhaven? Well, it's cold. Haha What can you expect? It's winter. LoL
But the rest, I really love it. I love seeing people hanging out here. We just had a walk enjoying the night and the lights. I feel like we are such a friendly and great community. I guess that's what I like about Tucson. The people are warm. They are nice. They make you feel like you are home 😊
But maybe that's what I like about public spaces or such public events. I love seeing kids playing, family laughing, etc. They are so sweet. And guess what? When I went there, thre was this guy proposing to his girlfriend! How much sweeter can it be?! I really love seeing those kinds of happiness radiated around me. It brings happiness to me myself.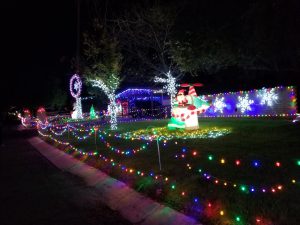 Anyway, another thing that I like about Winterhaven is that the ticket is free; i.e. we don't have to pay any for entry tickets. We can just come and enjoy the place, the light, the people. However, even though there's no such tickets, we're advised to bring some food or money for donation. They cooperate with Community Food Bank of Southern Arizona. See? I love it that people here care for others 😊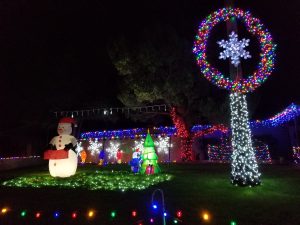 And, going to winterhaven reminds me of my past experience when I went to Fayetteville, AR. I went to similar festival of lights there in winter, December 2014. It was colder, I guess. But man, it makes me crave for traveling more and more. I mean, now I'm just staying at home, and it's winter break! Goodness, what am I doing?! But that's ok. I enjoy my time alone in my studio apartment. Besides, I need to save so I can travel big next summer. Gosh, I can't wait. Hope I can get the visa easily. Aamiin.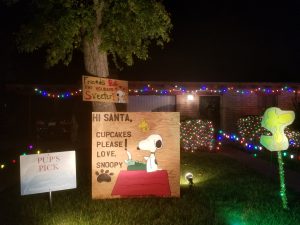 Ok, let's get back to winterhaven light festival. What did I miss? The economic impacts? Well, I don't know if I can actually say something about it since I don't study economics. Nevertheless, I'm wondering if it actually has good impacts to the people's economy. Like, from parking? Or the foodstalls! Some people open foodstalls and sell hot drinks and popcorns and stuff. It's surely selling considering the cold night. So I'm sure they will get some money from it 🙂 And they serve it happily with sincere smiles, too. I really love it.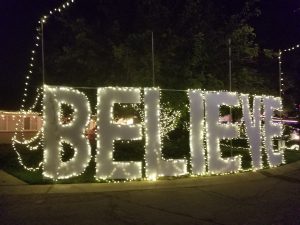 And by the way, this event is sponsored by TEP (Tucson Electric Power), and supported by some companies like COX, AHERN rentals, ACE Hardware, and GEICO. I am so happy. I feel like the money I pay for my electricity at least does not go to waste. Haha It's used for good cause, for the happiness of the people here in Tucson.
What else? Hmmm, I guess I'm running out of words to write. But if you're in Tucson, you might want to come so you can see it yourself. If you're not in Tucson, maybe you can try to find similar events in your place. If there isn't any, maybe you can try creating one? ^^ Best of luck! 😊