First of all, Norway is the fifth European country that I visited (I'm not counting UK). Second of all, Oslo is a very beautiful city and I really love it. Third of all, I had bad experience going to and traveling around the city. It's such a drama, and let me tell you how or why.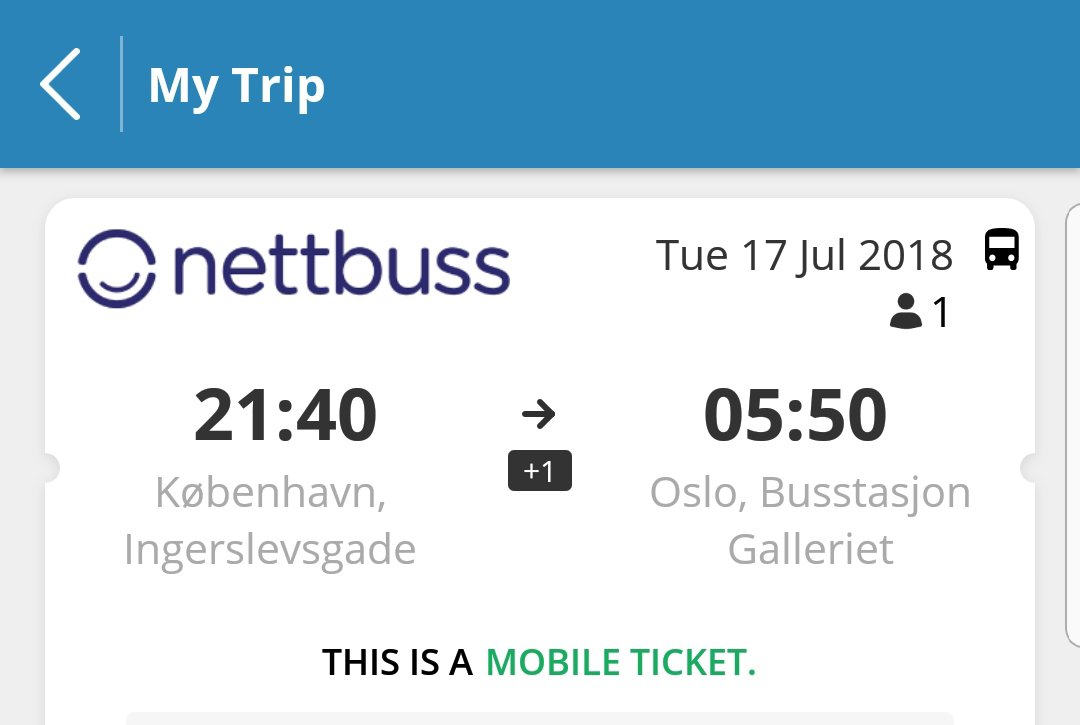 When I was boarding the bus (it's Nettbus), I heard the driver saying sth like 15 but I couldn't really get what it meant so I just followed my friend's invitation to sit on the front seat, on the top. Then before the bus even departed, a lady said it's her seat and her partner's (?), so we moved to sit in the back. We were fine until some time later at a certain stop, a guy came (most probably a new passenger) saying it's his seat. I tried to move onto the seat in front of me but then I was worried somebody was gonna ask me to move again so I asked the driver where I should seat. (The seat was not stated in the ticket by the way!!!) He then scanned the barcdode again, it's 15D, but a lady was already there, apparently right behind the driver so she heard us, and she said she wanted to switch because she wanted to be with her friend on the adjacent seat. However, her seat, 17D, had already been occupied by somebody else. I was so tired and upset that I just decided to sit behind her, which happened to be vacant. Some time later another lady tried to get the seat but my friend and I didn't speak her language so she tried to confirm to the driver and unfortunately she had misheard it; it wasn't her seat. Jeez, what a drama!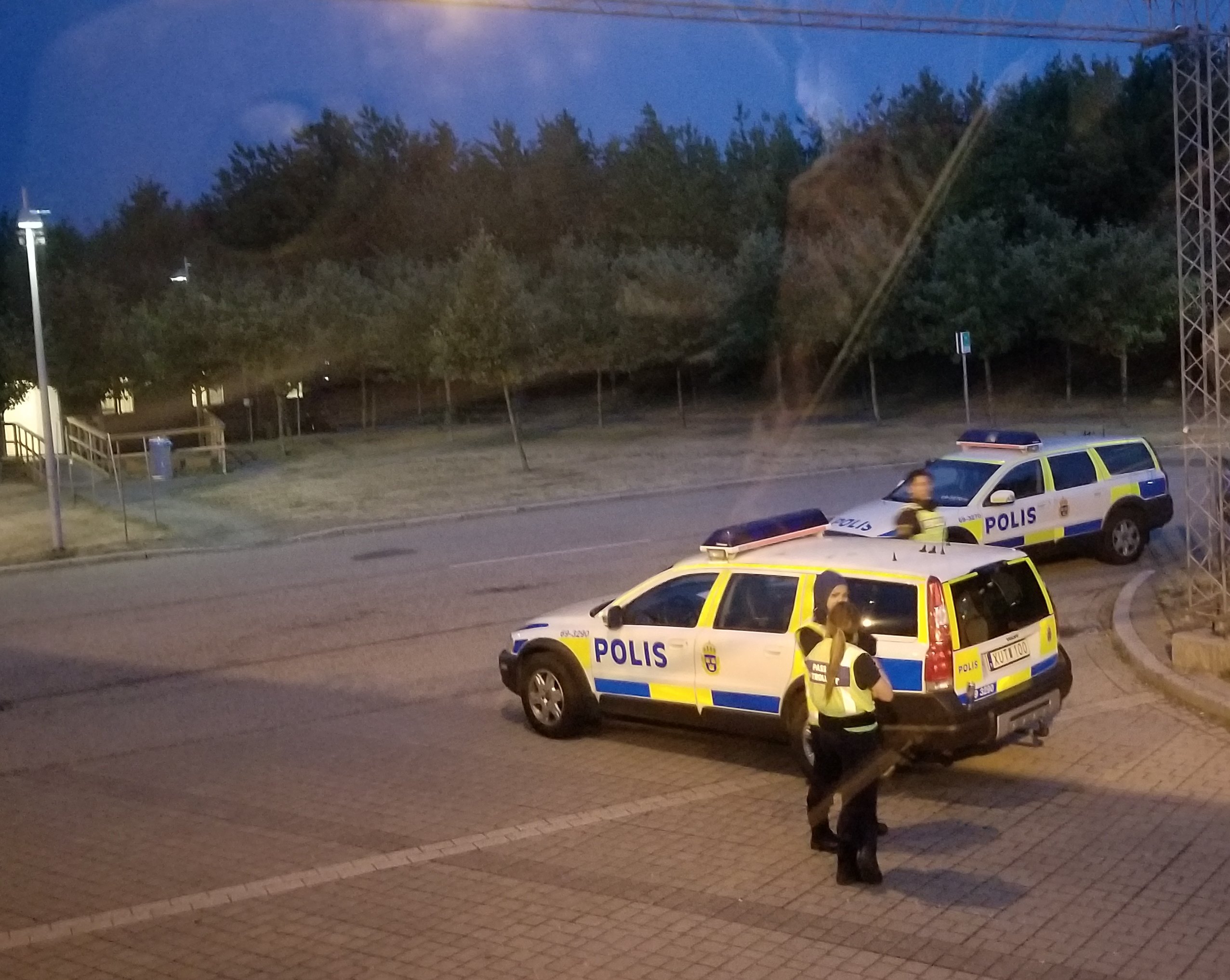 And before I forget, on my way to Oslo, I had my second border-control check, probably when we left Denmark, or maybe when we crossed Sweden. Yes, I just realized that I was passing Sweden to go to Norway. T-Mobile told me. But, dang, I was really slow, wasn't I? 🙁 And, well, this time the border-control was more serious. There were more police. And they had their dog too! (I'm not sure what kind of dog it was, but you know, that's the one that police usually used). I did the same when the officer got on the bus to check my document, showing him the passport holder info page and the schengen visa page. But then I was actually worried that the dog would bark when he sniffed my bag because I had my boiled eggs there. Fortunately, it didn't. I guess I was worried too much. *Sigh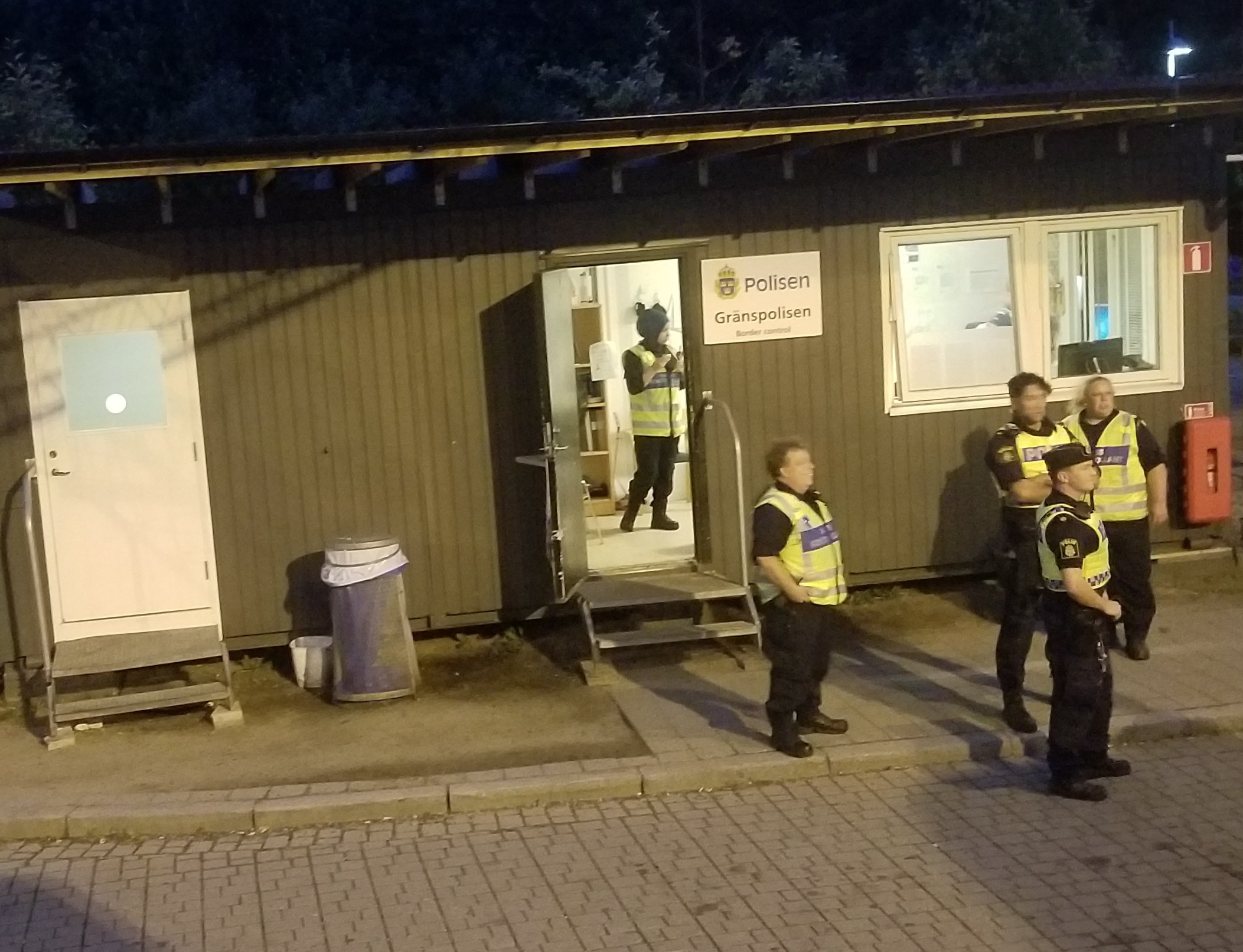 Finally in the morning, around 5.50am, we arrived in Oslo bus station. I got off the bus and took my backpack but then I couldn't see clearly because I wasn't wearing my glasses; I took them off when I was going to sleep in the bus. I tried to reach to my purse to take them as I was walking in the station, behind my friend and her friend. Dang, the case wasn't in my purse (small handbag?) and of course neither were the glasses! I told my friends that I was going back to the bus because I left my glasses there. I was sure of this. The idea that it fell somewhere else scared me. The idea that I should continue my trip without my glasses, without being able to see clearly was scary. Dang, I missed my 'normal-sight' eyes!
As I was walking to where my bus stopped, I saw it start to move. I speeded, running and waving to the driver gesturing him to stop. Fortunately he did, and he opened the front door, possibly still remembering me as one of the passengers. I got on and told him that I might have dropped my glasses. I immediately ran to my seat and looked underneath. My glasses weren't there. The case wasn't there! I was almost heartbroken but then I saw it right on the seat between mine and my friend's. I took it, opened it, and saw that the glasses were there. I was so relieved. I felt very lucky. I thanked the driver and got off the bus. I was so thankful. Just think of it, what would have happened had I realized it much later when the bus had already left?! Gosh, glasses were so expensive in Europe, just like in the US!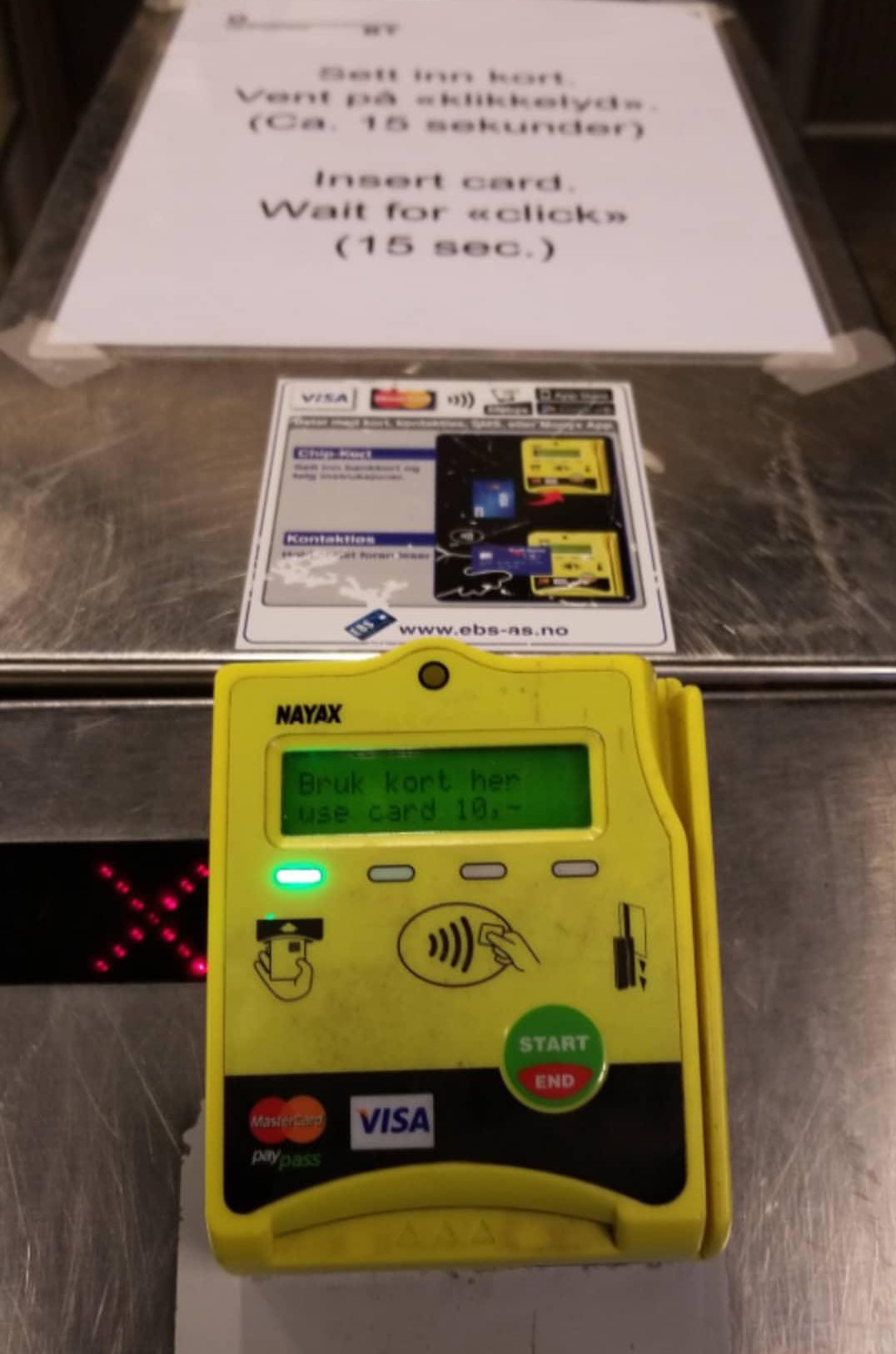 Then as usual, I tried to find the toilet. I needed to pee and wash my face and stuff. And, well, here we go again: it wasn't free! Even worse, this time it didn't give an option to pay with coins, neither did it tell me how much I'd be charged, it just required me to use a debit/credit card. Thankfully, my Visa debit card could be used. I had not checked how much I was charged for the toilet so I had no idea, but I had paid so I really took my time inside, washing and cleaning myself. It was kinda 'private', so I could bloody do whatever I wanted and took however long I needed.
I had my hard-boiled eggs and shared it with my friend before we headed to the nearest McDonalds, where they decided to have breakfast. I joined them and had cheeseburger and banana-mango smoothie; it cost me 51 NOK. Yes, Norway has their own currency, it's not Euro, and fortunately I had withdrawn some (200 NOK) when I first arrived in the station earlier. I thought it was better that way, the charge was only 3% anyway and I had registered for travel plan with my bank so that I could use the card in the countries I visited. I mean, I think 3% fee of the amount that I withdrew was not that bad compared to if I got it from the money exchange here; the rate was unbelievably bad and crazy, it's like they're just trying to rob me.
Revision: It's not like that. Withdrawing money from ATM that is not of my bank costs me $5 for each withdrawal, so you might as well withdraw a large sum. The 3% that I talked about refered to international purchase, like if we eat in a restaurant and pay using our card. So maybe the money exchange is not bad…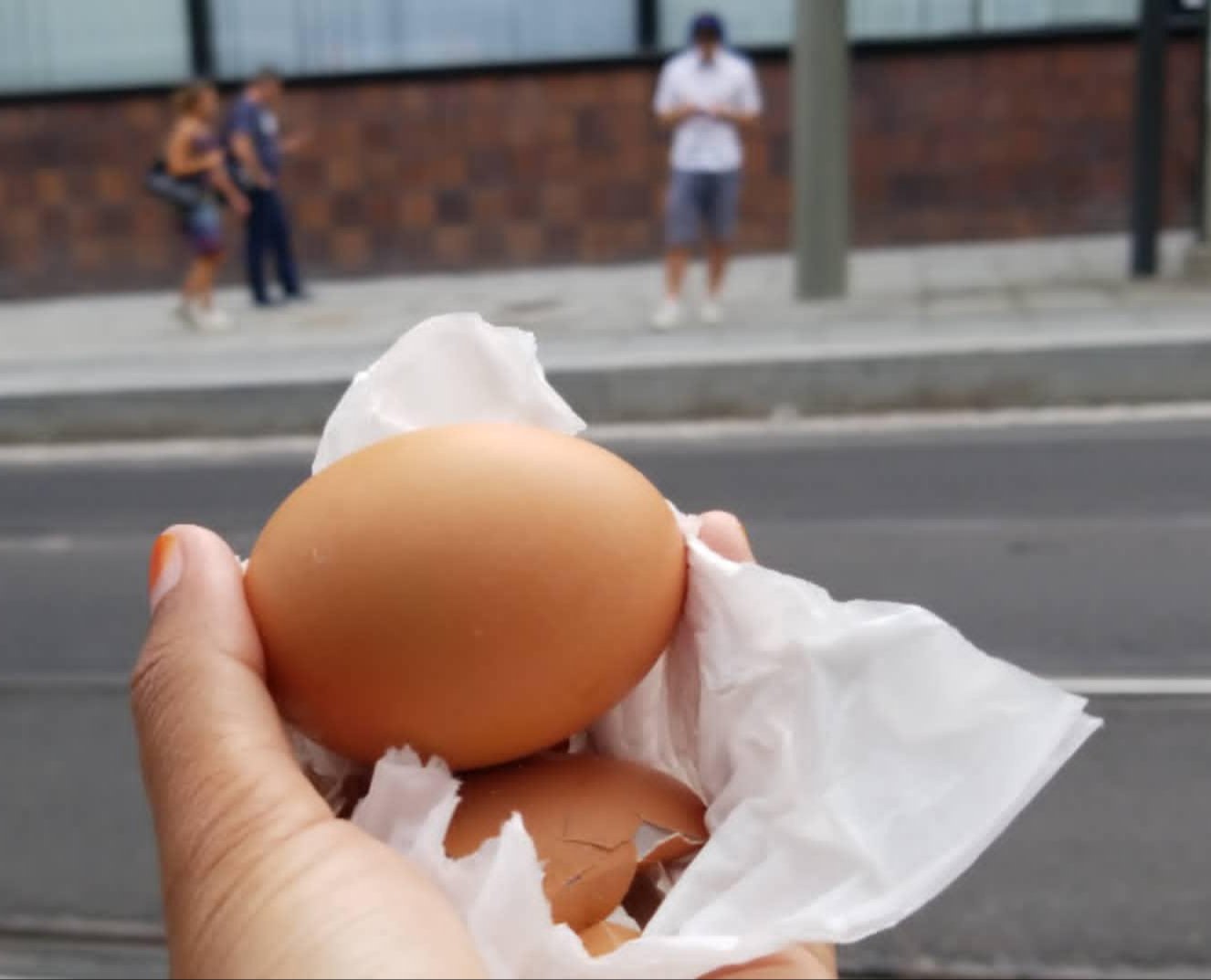 From McDonalds, my friend wanted to go straight to The Vigeland Park before it was too crowded, but I thought it was best to visit the Viking Ship Museum first because that's where she wanted to go the most. I usually made a map for the places I wanted to visit so I could decide which place to go first and next for time efficiency.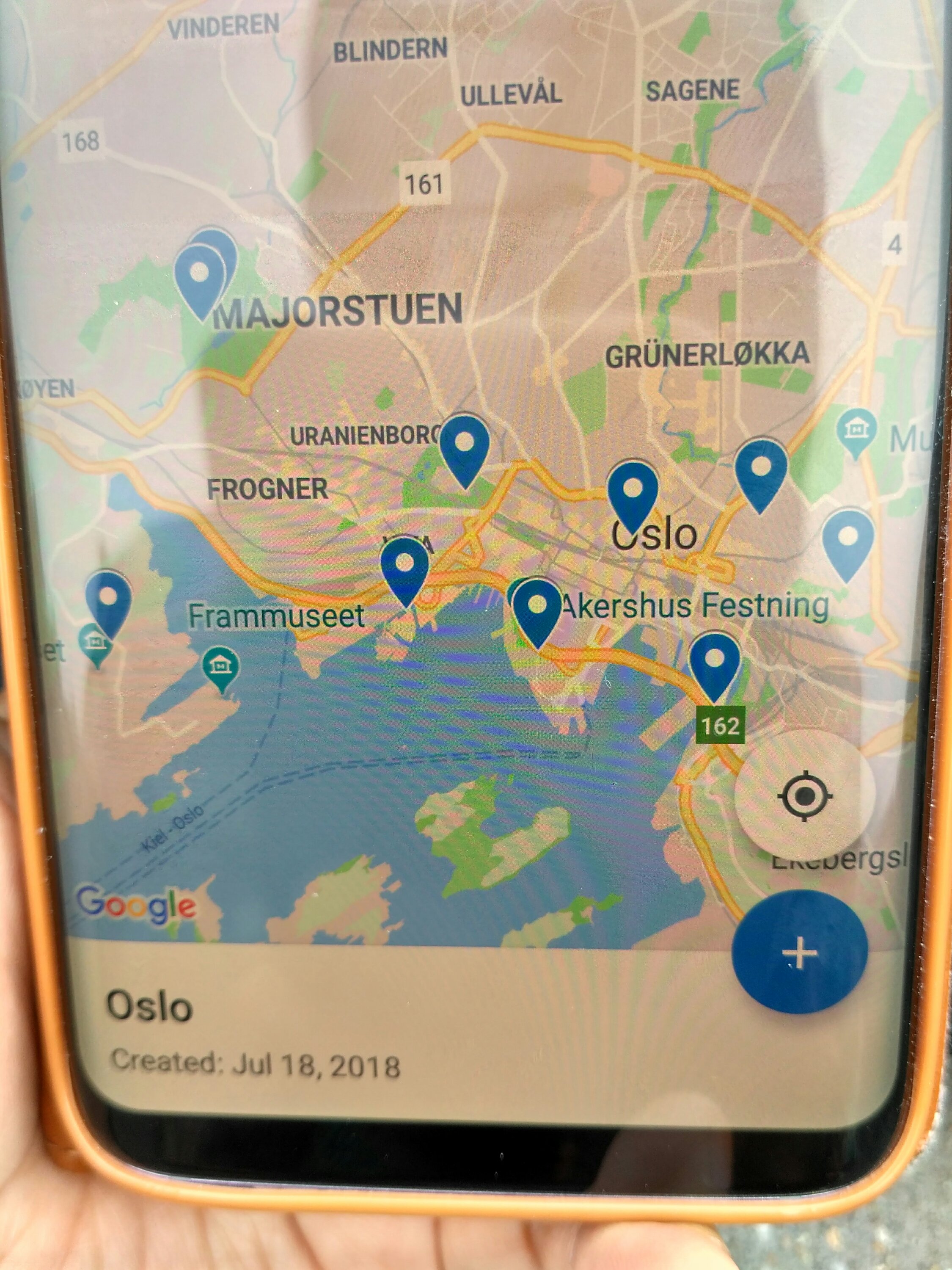 My friend, however, planned to just buy a ticket for one ride and then walk but her friend and I thought it's best to buy a day pass. One ride ticket was 35 NOK, while one-day pass was 105 NOK. I wasn't going to walk all around the city center only again, and even though 105 NOK was actually expensive (it's around €11, much more expensive than a day pass in Paris, Brussels, and Amsterdam!), but I thought it was going to be worth it as we could go to more places. Thankfully my friend agreed 😁 so we bought a day pass 😊❤️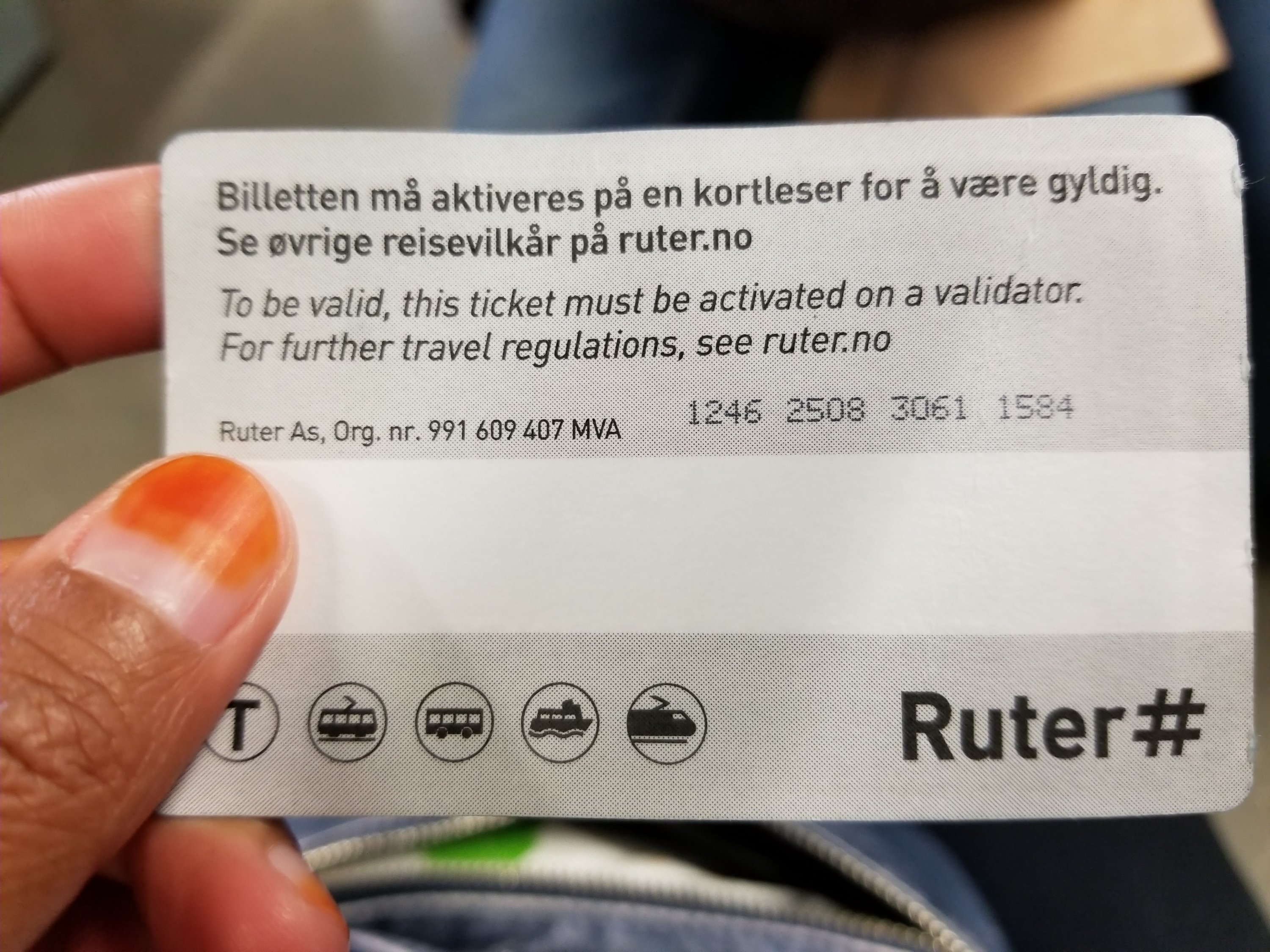 There were different zones in Oslo and the day pass was only valid for Zone 1. Thankfully, after browsing here and there, the places we planned to visit were all in Zone 1. We bought the ticket in 7-eleven, which was near the McDonalds we had breakfast at, because it was one of the 'official' outlets/partners of ruter, the public transport 'provider' and because it ws cheaper that way. If we bought it from the driver on the bus/train/tram, etc, it would be more expensive. For example, if we bought a single-ride ticket in the outlet, it was 35 NOK, but if we bought it from the driver/conductor, it was 55 NOK. Crazy, right?
So we took Tram 11 to The Vigeland Park, but on the way we saw this beautiful view that we decided to make a stop there first. And then I realized that the day pass could also be used to board on a ferry/boat to the nearby islands. I told them about it. We weren't sure if we should buy a separate ticket, but from what I read, we didn't have to. We decided to hop on the boat and ask the 'officer' later. I mean, the ticket was expensive so we might as well make the most use of it!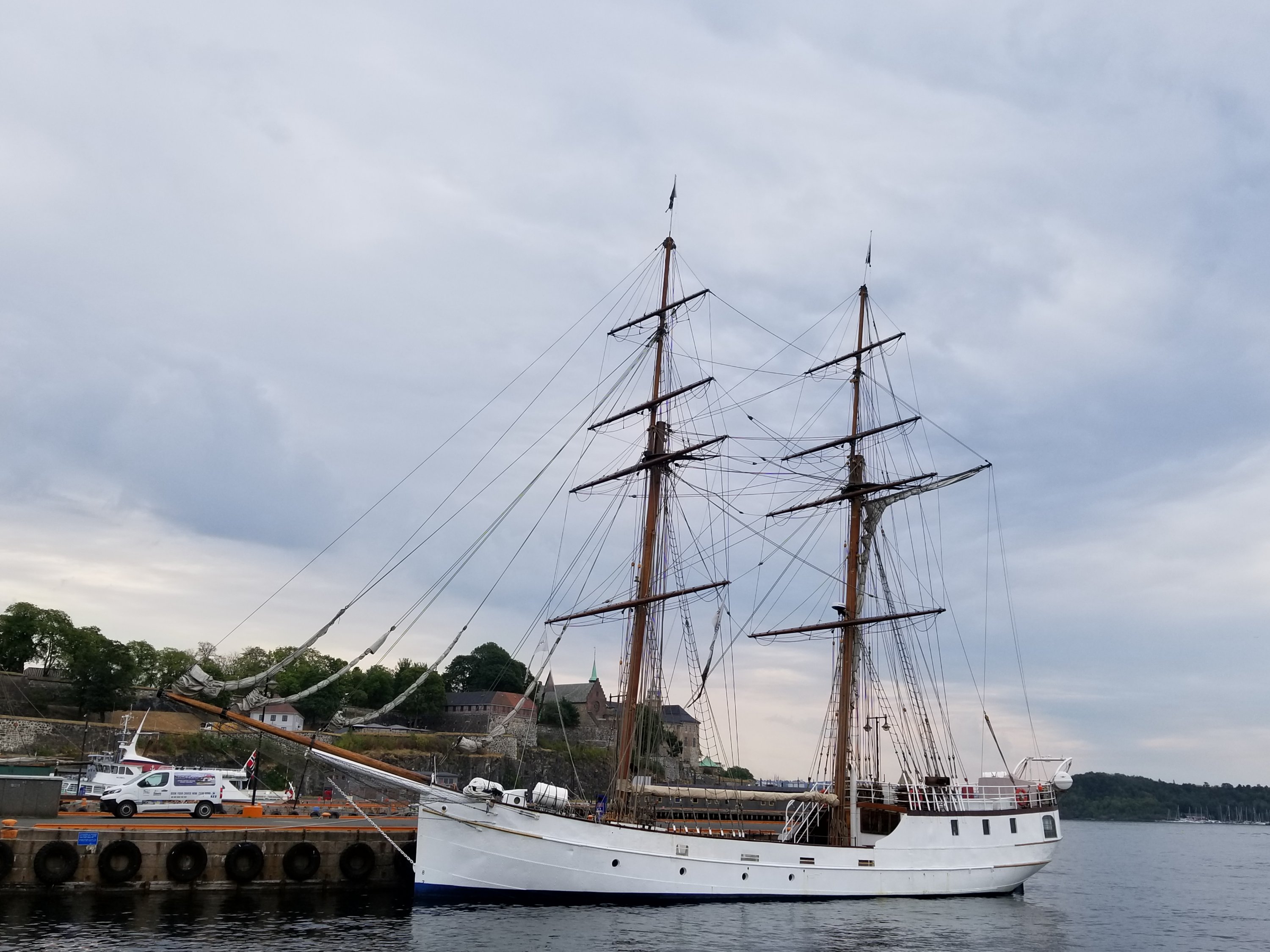 We queued. There were different lines going to different islands. We took the one who went to several islands in turn. And when we boarded the ship, I asked the officer if we could use the day pass card to get on the ship. He said, 'Of course!' with a smile. Dang, he was so handsome and gorgeous 🙈😍🙈 But, well, safe! It means we could take the cruise to the small islands 😍 The first island it stopped at was Hovedøya island but we decided not to get off because the island did not look so interesting. We then got off on the next island, Lindøya vest. The island was cute and so were the small houses there. The view was great even though the weather wasn't really nice. (It started drizzling the moment we left the bus station! *Sigh)
We took some pictures and boarded the ferry again to go back to the harbor. We skipped the next islands (Nakholmen and Bleikøya) because they looked similar to the one we had already 'explored' and mainly because we had no time and we should go to the other destinations that we had planned.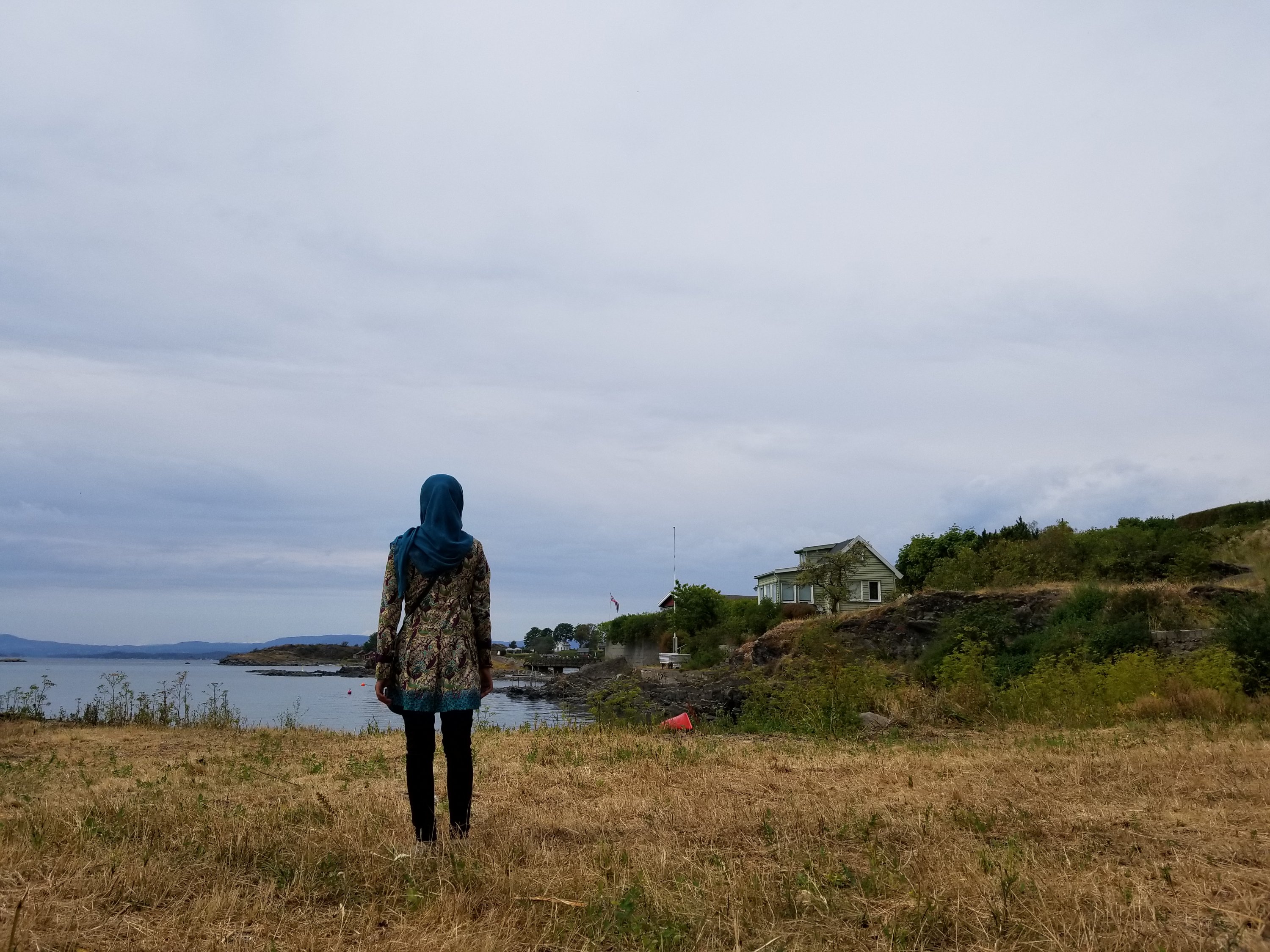 We then went to the Viking Ship Museum, the one my friend really wanted to visit, because it's already 1pm and museums usually closed at 5pm. We could come to the parks later because, well, it would be open for 24 hours anyway and we would still have a lot of time after 5pm because our flight was still the next morning. I myself didn't really have certain places I wanted to visit. Every new place was an adventure for me so I was fine. Usually I would just Google "tourist attractions near me" or "tourist attractions in …" and then set post office and the mosque as my destinations and just experience the adventures that came my way.
I was wrong that day, though. I should've known better that I wasn't really a museum person, especially when it wasn't for free. The ticket was quite expensive (for me), 80 NOK (I used my student ID to get a student price, normally it should be 100 NOK). And it was a really small museum. There were just around 3 Viking ships (sorry for those who think I didn't appreciate it but 80 NOK for that was too much for me. Yes, I'm stingy, sorry.) But, well, the good news was when I asked the guard, she told me that I could use the ticket to re-enter the museum and it was even valid to enter another museum: Historisk museum. So, well, maybe it wasn't so expensive then 🙈😅✌️ And thus, I asked my friend if she would still stay longer there and she said yes so I decided to just leave and find a post office to get a stamp and send a postcard (to myself 😌🤗). That way I didn't have to get bored waiting for her to finish enjoying the museum and she didn't have to waste time waiting for me going to the post office. This is the negative side of traveling with 'friends' especially when you have different interests, you should compromise and tolerate because your time should synchronize.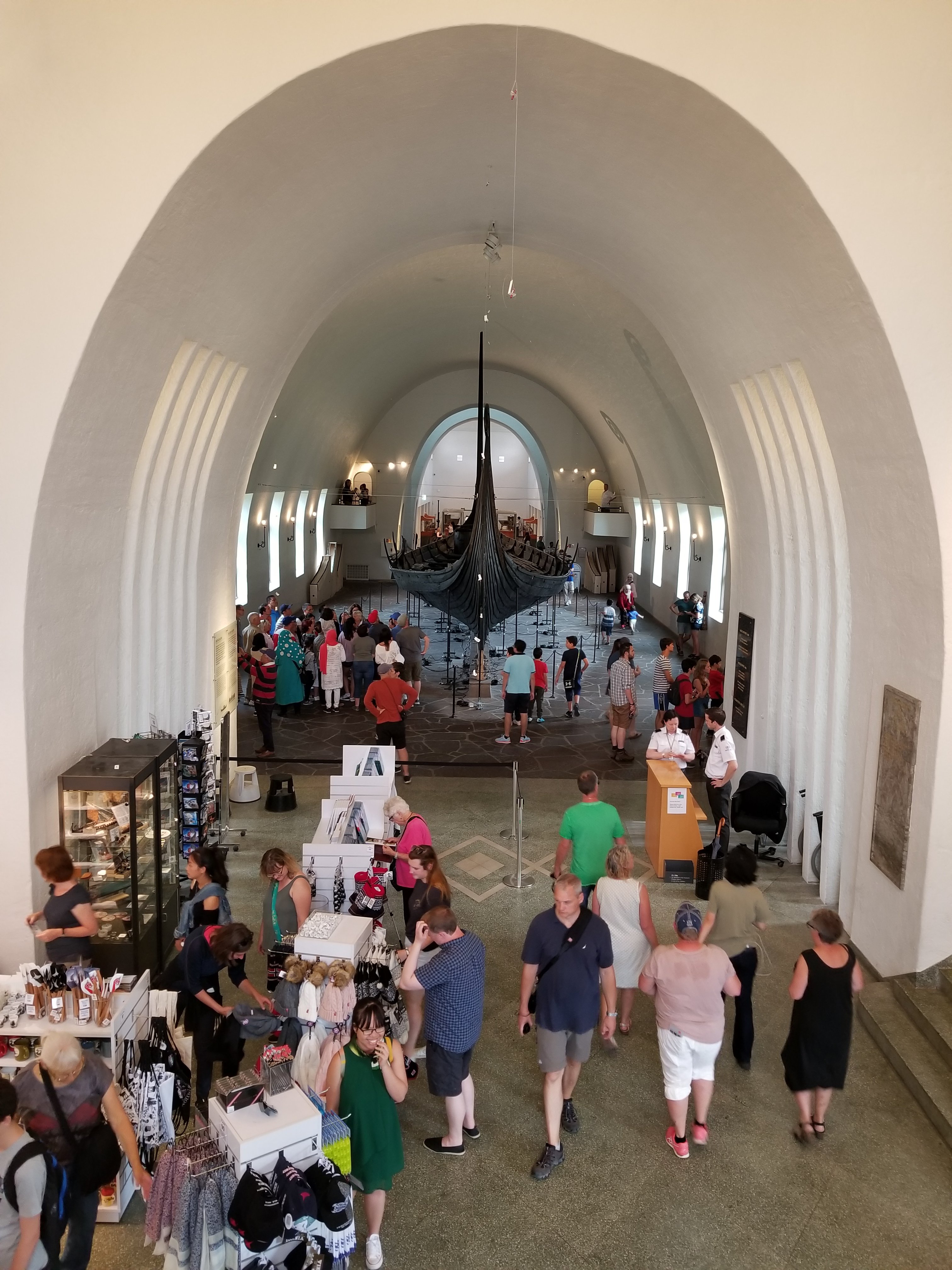 It took me only around 30minutes back and forth to the post office. I got the postcard for 10 NOK in the museum and the stamp was 22 NOK in the post office. It was cheaper than the one in Copenhagen, Denmark. Then, when I got back to the Viking Ship Museum, my friend and her friend were already outside the museum. They seemed to have had some ice cream. I felt a little bad. I felt bad for making them wait for me and I felt sad that they had ice cream without me. But, well, I guess I was just being childish.
Then, I told them about the ticket's being valid for another museum so we decided to go there before it closed at 5pm. We took the bus. We walked. We explored the museum. Then we went to The Vigeland Park (finally!) to see the naked statues. My friend said that if we were to talk something iconic about Oslo, then it's the statue. It was crowded but the statues were incredible (though I wasn't sure why they made such statues). I tried to find some writings around but they were not there so I guess I'd just Google later. However, from what I can see (with the things I saw in the Museum too), I guess they're trying to highlight and understand the gay community 😊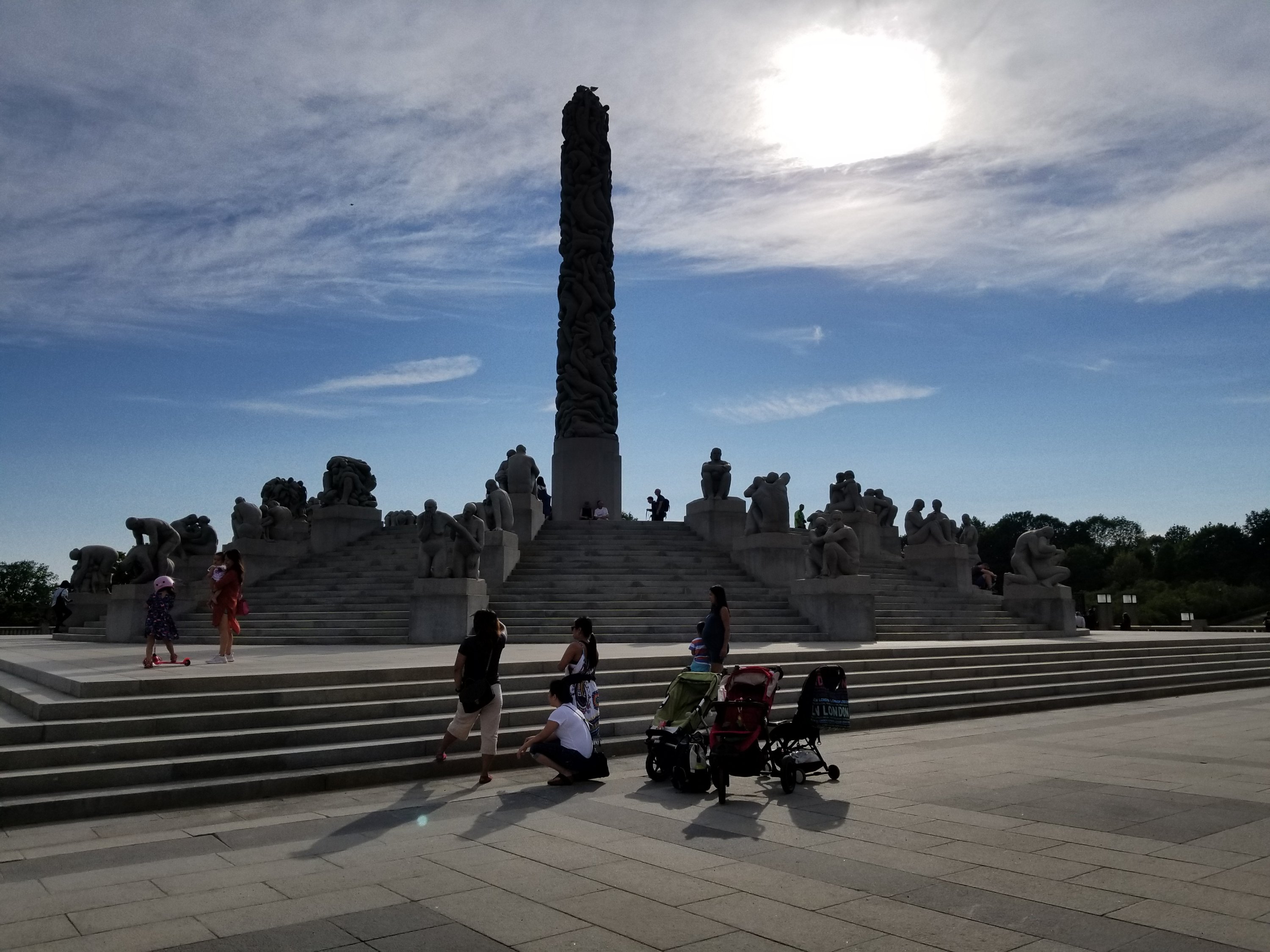 And then, I decided to go to the mosque because their next agenda was going to the shopping center and if you knew me well, you know shopping was not my thing. The agreement was that I went to the mosque and after I was done, I would catch up with them wherever they were. It took me probably 1 hour-ish to go the mosque and do my prayers. And when I was done, I asked my friend where they were. Dang, I wasn't sure if either I or my friend was losing signal, but she didn't immediately reply so I didn't know where to go. Fortunately, she then replied saying they had already been in Oslo Central Station eating at Burger King. Oh, ok. At least now I knew where I should go and it took me only 15-30 minutes to get there anyway.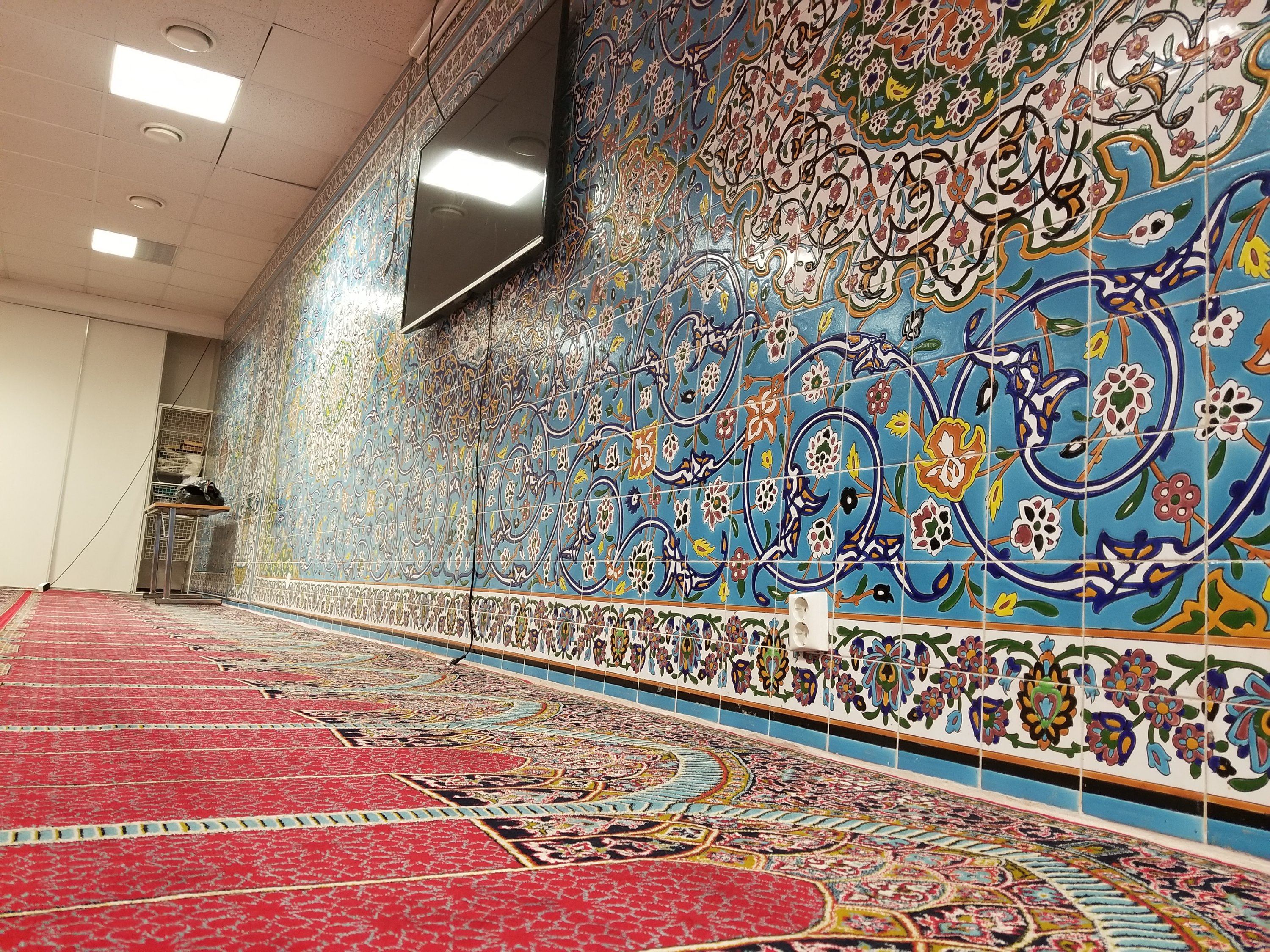 When I arrived, I texted my friend asking which Burger King they were at because when I Googled, there were some Burger Kings around the station. My friend said they had already finished eating and was leaving the mall. Oh, ok. I guess I wasn't going another penny in Norway, not even for my meals. I had my boiled eggs and my snacks anyway. I was okay.
I told them I was right in front of the station so they could find me easily but it took them so long I started to worry. But then I read the text saying they were trying to find a toilet, so I understood why they were not quick. (The struggle was real when it came to finding toilets. LoL 😂🙈😅✌️). But, well, while waiting there were some ladies begging but I really didn't know what to do with them. First, I didn't have the money. Second, I wasn't sure if it was okay to give the beggars. You know, in some places it's considered unlawful to give money to such beggars and the least I wanted was getting myself into trouble so I apologetically said no everytime they approached me. I felt bad but, well,…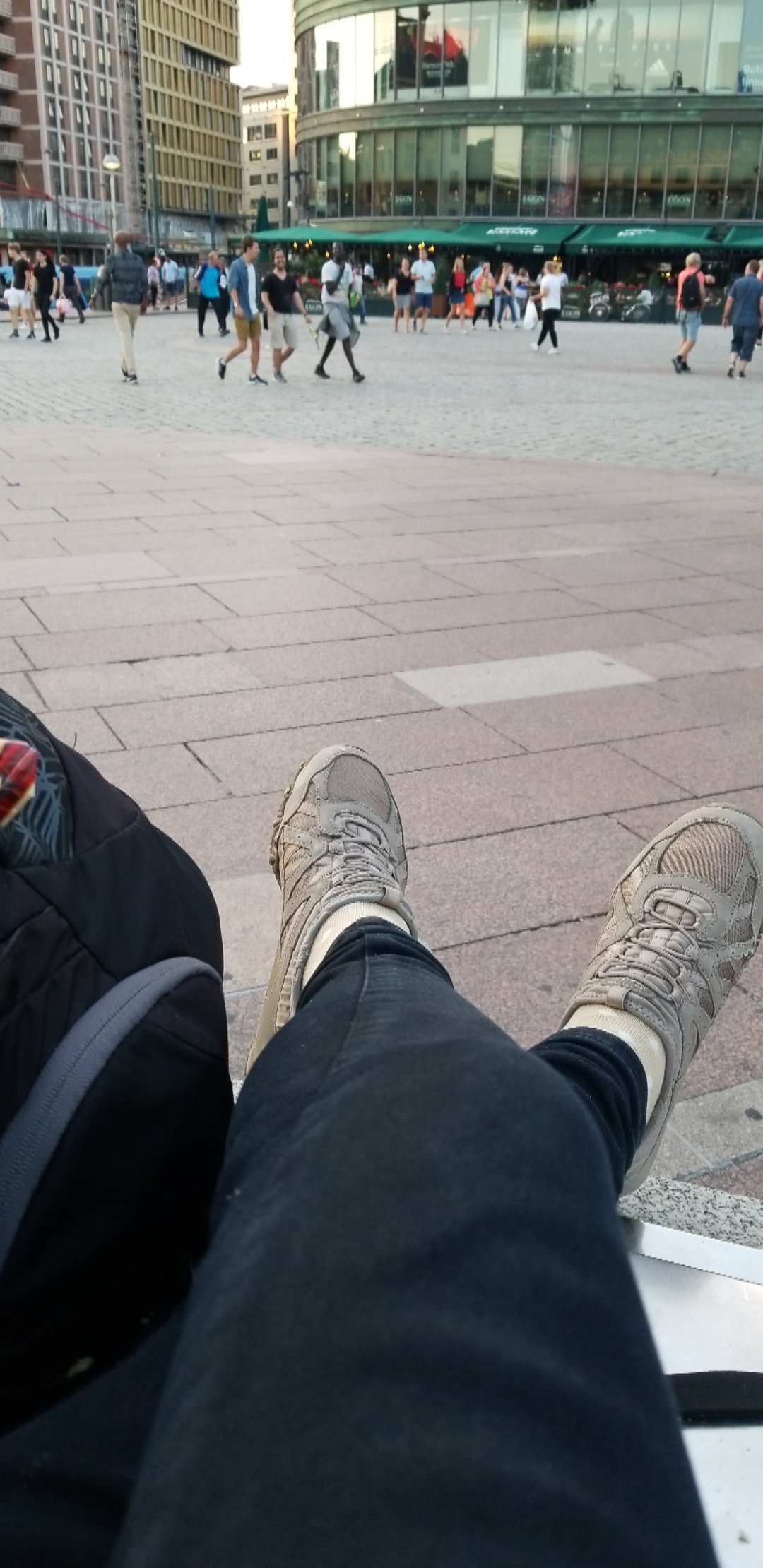 Then my friend said that they were already inside the station, in the Station Hall. I was like, "How?" I mean, I didn't see them when I was waiting all the time outside, right in front of the station. But they said they were getting in from the mall, (which was apparently connected to the station). Oh, ok. I went in. They already bought me a ticket to the airport. Cool. But I needed to make sure that it was necessary because we had already bought a day pass and I Googled that the train to the airport was from the same provider so I wondered if we could use the same card. We couldn't, because the airport was in different zone. Fine.
So I owed my friend 101 NOK. We waited outside and chilled till around 11pm when we decided to go to the airport. We checked the platform and made sure that it was really going to the airport. We hopped onto the train. We arrived, but, holy, we couldn't get into the airport. The ticket wasn't even checked before so we wondered if it was because we hadn't validated our ticket in the train. That was not the case. The guy in the airport said we got on the wrong train so if we wanted to get into the airport, we should pay for the ticket of the train we just got off. We were like, "How?" The lady in the station herself told us which ticket we should buy and even helped us with it! He didn't budge. He said the ticket was for a different train and so we needed to purchase the other ticket. He said something about us going to the wrong platform And maybe we looked miserable that he had to ask me how old I was. I said 30 and he be like, "So you all are over 20?" to which my friend and her friend said yes. And he was like, "Ok, the least I could do for you is giving you the student price. Normally it's 190(?) but for you I'd give it for just 95 NOK. What the…??? I mean, I knew I might have been oversensitive but I was so upset at that time. It was like my tiredness and fury had accumulated. I was like, "I might be 30, but I'm also a student! I could even show him my student ID card! He aint playing hero when he gave us student price; that's what he's supposed to do! So initially he was going to sell us the normal price without asking if we were students or not? Jeez. I was upset and it was hard to be nice and friendly when I was furious.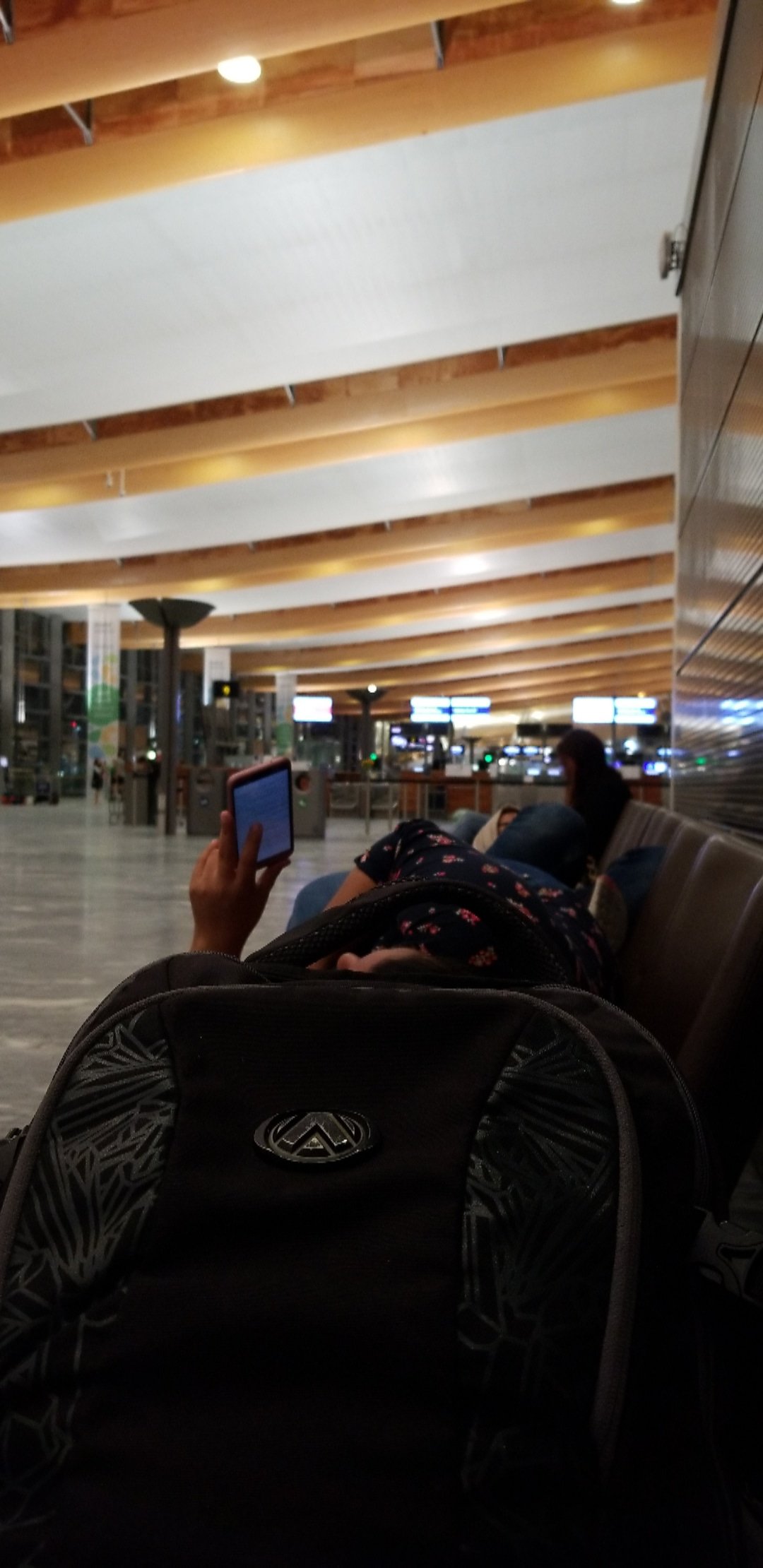 But then I decided to buy the ticket for my friend as well so that I didn't owe her much. (I also gave all 6 NOK that I had so I owed her nothing). But guess what? The guy only charged me for one ticket and when I protested he said he'd cancel it so I could pay for two. What's the point? My card was already charged! He was trying to get me to pay for 3? No way. (No, I knew it's not what he was trying to do. He was just a bit clumsy and not well-concentrated because he was also busy with his phone. Jeez!) Regardless, it fueled my infuriation!
And that's how we got into the airport. We bought a ticket but had to pay for another ticket. It was so wasteful for me. (Just so you dont get me wrong, I'm not blaming my friend here. I was also fault when trying to find the right platform. Regardless, I can't help feeling upset, probably with myself and I took it out on the airport guy. Sorry). We then spent the night in the airport. We tried to find some empty seats to sleep. It was horrible, almost all of us were running low on batteries. There were some power outlets but somehow they were not working so they were so useless. I myself couldn't sleep well because it was so cold and I was worried about our belongings. What if somebody took them when we all were asleep? Plus, you know I could sleep well without mattress or pillows, but somehow, I'd always prefer a blanket. But, well, I guess it all was part of the adventures. It all comes with a price. It's one package.
PS: You might want to disregard this post because this writing was kinda spiced with fury and bad emotions so it might be invalid. But in all seriousness, I decided to write this all even when I havent written anything about my previous trips/European episodes because I wanted to write it while my feelings were so into it 🙏🙇‍♀️✌️