As you might have known, I'm studying at a beautiful and great campus at the south-western part of the States: University of Arizona. So yeah, I'm a "Wildcat". I really love this place, the town, the university, the people. They all are good. And this semester, my campus has this food distribution program by UA Campus Pantry. I'm not sure how long it's been around. I just found out about it this semester, but it seemed that not so many people (students) know about this program.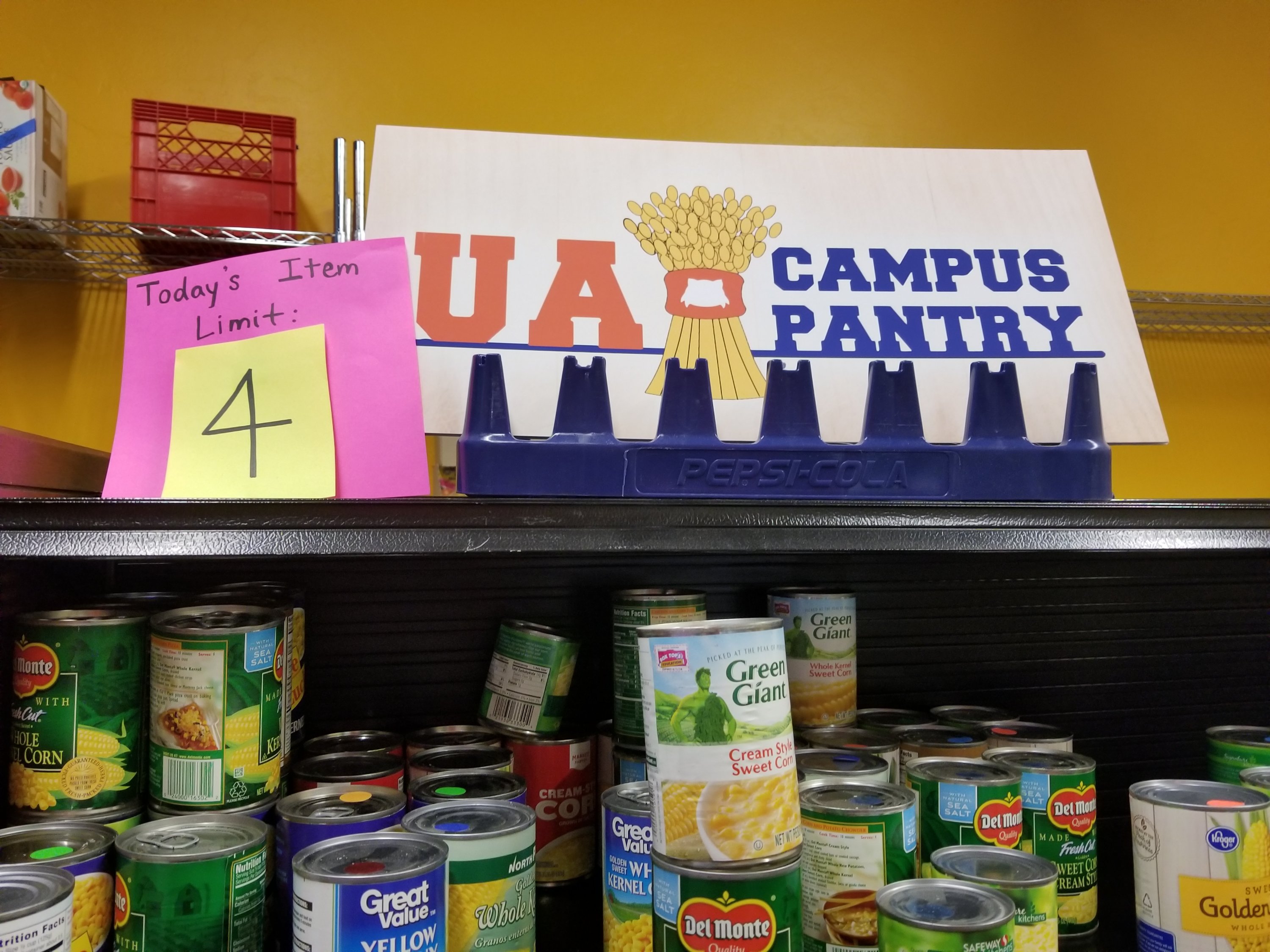 This program is really one of those things that make me proud as a Wildcat. It shows how much my university actually cares about the students and the staff. And anybody who came up with this idea must be a great person, so brilliant. I know that food bank community has been around all over the States, but how many campuses actually think that students might need it too? As stated in the web, this food distribution program by UA Campus Pantry hopes to ensure that the students and the staff get enough food. That's why they give away the food for free. We simply need to show our CatCard or student ID.
So how is it organized? Well, I've been to UA Campus Pantry only four times, on the second and the third week. I didn't come at the first week. They were open twice a week, from 12-7pm on Wednesdays and from 11am-3pm on Fridays. It seems that they get the food from UA Student Union or maybe some donations from other places. Some might be "leftovers" but still in a good shape, you know, like some remaining products that might not sell but can still be consumed. I checked myself and most of them are not expired. They have this separate shelf for expired products, though, but there are only a few. The rest is fresh and in a good condition.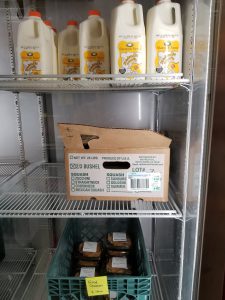 I don't know how it was at the first week since I couldn't make it. But when I went there for the first time on the second week, the items were limited into 4 per student and 5 if we have our own bag. There are some officers that seem to take turn taking charge of it. I think they are part-time (undergraduate) students who work at the pantry. (God bless their souls! You guys have my love and gratitude! 😊 Sometimes I really want to say this to them but I'm worried that they might feel awkward and think it's creepy, so, someone, if you happen to read this and know them, please let them know that they are worthy! ❤).
Anyway, the officers would give us "some guidance" about how it works, like how many items we can take, what we should do, if we have our CatCard, etc. On the second time I went there they asked if I'd been there before to see if they needed to explain how it works again, so I just said that I've been there before. At first I thought they asked because I wasn't supposed to come again if I had come the day before, so I felt embarrassed. It turned out that wasn't the case (hopefully). The first time I came there, there were only 4-5 people in front of me, so it wasn't a really long queue. The second time and the next times I went there, there were no queues at all, only some students who was already inside picking the food they wanted. The "service" was getting better too, now they even provided clearer guidance on how many items a certain kind of food would be counted for. For example, they attached this note along with the picture that says 3produce=1 item, max 3produce. I don't know how they came up with this idea, I think that's because many students might have been confused and ended up taking more that they were allowed. I myself, albeit bringing my own goodie bag, always take only four items even though I was allowed 5. But just in case, you know. I love taking as necessary. I even plan not to come next week because I haven't finished cooking all the stuff I have at home.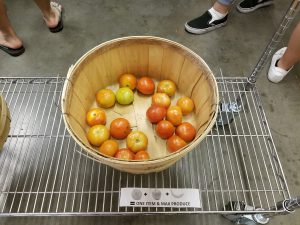 The room was actually not that big. It's relatively small with a fridge and some shelves. There were various food but I think it's more than all you can need albeit limited. There's milk, produce (potato, apple, tomato, orange, zucchini, etc), instant cereals, oatmeals, canned vegetables and fruit, rice, pasta, tomato sauce, canned meat, sometimes even mashed potato, roasted corn, fried chicken, etc. (I really wish I could take the fried chicken, but I eat only halal chicken, so I can't really risk it since they don't have halal label on it. Hhe). Indeed, there is no guarantee either about what food will be available that week. For instance, there was yoghurt alternative when I first came, but it's no longer available when I went there for the second, third, and fourth time. And sometimes, it's more like "first come, first serve" since the earlier you came, the more staff you can pick your food from. When you came at a later time, the options are really limited. But I think maybe they reload it time after time. I remember this day when I went there around 1 pm, they didn't have carrots on the shelf, but my friend who went later on the same day said that carrots were all that was left. So, I don't know.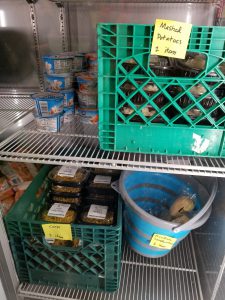 After we're done picking our food, we went to the desk for the officers to check. If we took too many, they'd tell us so and asked us to return some. Then we should put it on a scale for them to write the report (I guess). Then we're good to go. It's really simple and easy. And the staff is really nice and friendly. I love them. (I really hope they become successful people later. Amen!) 😊
This is a really good program, I think. I hope more universities or schools can have something like this for their students and staff. Maybe cooperating with local grocery store? ^^