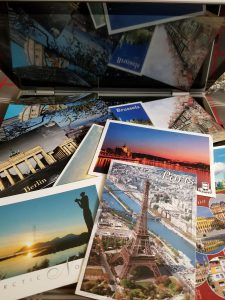 As you have known, I send postcards to myself. If that makes me a narcissist, so maybe I am. I might have written it but let me say it again: I think it's a good thing to write to myself. If I ever got lost or lose my memory someday, (hopefully not), maybe I'll find the remnants of myself, life, and experiences there. (Which is why I kinda resented myself for not doing it much earlier. I mean, I've been to 25 states in the US but only sent from 3 states to myself, which was recently 😐). Besides, I don't really like buying myself other souvenirs since they're usually (more) expensive. (So yeah, I don't really buy people souvenir either, I hope they understand). Thus, I think postcard is the best option. It's a solid proof (in addition to tons of pictures that I took) that I have been to a place. (Though yeah, it's a bit of a hassle finding the stamp and the post office/box sometimes). And postcards are relatively cheap too. And yeah, I'm a cheap person. I don't put values on money. I mean, I don't value things on how expensive they are. I value good things on how cheap/affordable they are. But okay, enough with the excuses. I'm simply (poor and) stingy 🙈😅✌️✌️✌️
Anyway, I keep track of the prices of the postcards and the stamps when I traveled to UK and Europe (I decided to distinguish the two since, although geographically UK is in Europe, it required different visa and we know that Brexit thing, so…). Anyway, there wasn't so much info when I tried to browse about postcards and stamps in European country, so I hope this can give additional info. The postcards can be cheaper or even more expensive sometimes, but the stamp should be the same unless the store sold it at higher prices than the post office. Here are the prices that I bought for myself. You might want to set a budget for it if you wanna do it too. (Or maybe choose a 'cheap country' to send a postcard from to save some money 🙈✌️✌️✌️)
| | | |
| --- | --- | --- |
| Country | Stamp | Postcard |
| UK | £1.25 | £0.15-1 |
| France | €1.3 | €0.4 |
| Belgium | €1.8 | €0.6 |
| Holland/Netherlands | €1.4 | €0.6 |
| Denmark | 27 DKK (€3.62 😱😱😱) | 7 DKK |
| Norway | 22 NOK ($2.69/€2.31 (not surprised anymore 😐😐😐)) | 10 NOK |
| Germany | €0.9 | €0.7 (there are cheaper and more expensive ones) |
| Czech Republic | 41 CZK | 10 CZK |
| Austria | €1.8 | €0.40 |
| Hungary | 435 HUF (€1.34) | 320 HUF (€0.98 🙁) |
| Italy | €2.50* | €0.25-0.6 (I bought my friends a more expensive one 😅) |
| Switzerland | 1.7 CHF** | 0.6 CHF |
| Spain | €1.45 | €0.5 |
| Portugal | €1 | €0.5 |
*This one seems to be different from the official stamp that is issued by the official/governmental post office. It's so popular in Italy, though. It seems like a private company. It has the tracking barcode too. The prices are different if you want to send to countries in Europe mainland, UK, and outside those.
**It doesn't really look like a stamp. It looks more like a 'receipt', just like in Netherlands, Norway, and Austria :/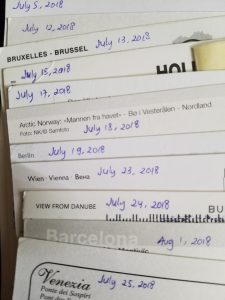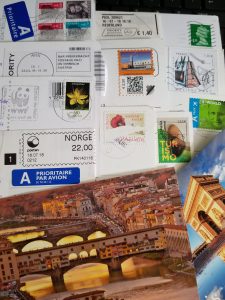 As you can see, the cheapest stamp is of Germany; so if you want to send a postcard to many friends while traveling Europe, sending one from Germany can save you some money. Haha And by the way, I don't really understand how this postcrossing works. I thought the postcard that I sent first would get delivered first and thus arrive first. It doesn't seem to be the case. I mean, the countries in the above table are listed based on the order of the date I sent the postcard. If I were to receive the postcard in the 'right' order, I should receive UK postcard first and Portugal the last. Again, that's not the case. When I was back in Tucson, I got several postcards in my mailbox so I can't really tell which arrived first. But afterwards, I always checked my mailbox every day. And guess what? The postcard I sent from Spain arrived first, then from Italy, then from Portugal (on September 17, 2018), and finally from Switzerland (on September 20, 2018). To date, I haven't received the one from Czech, when it's actually sent much earlier than the ones sent from Austria, Hungary, Italy, Switzerland, Spain, and Portugal. I don't know, but I still hope it will arrive somehow 😐
PS: International stamp in the US is $1.15 USD, the postcard varies from $0.25. The postcard I bought in Philippines is 30-35 PHP (Philippine Piso), the stamp is 15 PHP. The postcard I bought in Japan is ¥100 yen, the stamp is ¥70.