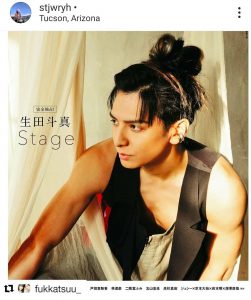 I might have talked a lot about this guy but I haven't properly told you about who he is or why I love him so much. Or have I? But, oh, well. Ikuta Toma is one of my most favorite Japanese actors. What I love about him or what I love about loving him is that I'm sure that it's his acting skills that make me fall in love with him. It's not his looks. It's not his fame. Well, at least it's not the main reason. My love story with him is not that kind of "love at first sight." Definitely not. The first time I watched his drama I was in love with someone else. I noticed he was exceptional, amazing, awesome, and such, but it's hard to fall in love with someone else when you're busy loving another someone no matter how amazing he is, right? I mean, I am loyal 🙈 😜🤗✌
The first drama of his that I watched might have been Hanakimi (Hanazakari no kimitachi e). It's really hilarious and entertaining. If you need entertainment, I'll suggest that you watch it. However, the one that I paid attention to at that time was Nanba-senpai because I love Mizushima Hiro. Then it took me for a while to return to watching J-dramas and movies because of one and another reason, busy with my study, busy with work, etc. But when I went back to watching J-dramas and movies, it happened to be Ikuta Toma's movie that I watched. And I was in awe. I mean, normally when we watch an actor playing different characters in different movies, we can tell that it's that same actor playing a different character. We'll say, "Oh, it's the actor that played character X in Movie Y." With Ikuta Toma, however, it's not like that. He's the type who'll make you say, "Wait, what? Is he really the same actor who plays X in Movie Y?" That's because his acting skills are so amazing. He's really talented. He plays each character really well that we cannot really see himself in the character he's playing. He immerses himself in the character. I'm not sure if I have this opinion because there was a long break between his movies that I watched. But I watched different movies of his in pretty short time too and I can still see how different he can be in each character he plays. For me, he's really a professional actor!
To sum it up, he's the most versatile actor for me. I mean, some actors are only good at playing a certain character. Like, one can be really good playing a cool character but is really bad at playing a funny character, or vice versa. With Ikuta Toma, however, it's different. He can play any character really really exceptionally amazingly well 😱😱😱 He can be really funny and hilarious (e.g. in Hanakimi, The mole song, Seaside Hotel). He can be serious (e.g. Himitsu the Top Secret, Ourosboros, the Tale of Genji). He can also be expressionless (e.g. Brain Man). He can be exceptionally 'ordinary' (e.g. Osozaki no himawari). He can be a psycho as well (e.g. Ningen Shikkaku). And, oh, he acted as a transgender really really well (e.g. Close Knit). And don't forget his latest movie that I just reviewed last week: Yuuzai. It all seems so natural. It's not like we see someone acting out a character. It's really like seeing the characters themselves come to live and re-enact their stories. He's that amazing. I don't think words can do him justice. But boy, I really hope he will read this just so he knows how much I appreciate his acting skills and all efforts he puts into playing the characters. (But maybe he doesn't need me to tell him this. Hhe)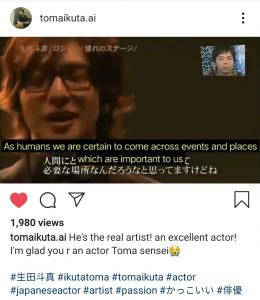 And, well, I don't think younger Japanese actors (those born after 90s) can beat his acting skills. I mean, they are all good-looking, nice, sweet, etc. but in terms of acting skills, Ikuta Toma is still the number one for me. But maybe the closest to him is Suda Masaki (but let's talk about him in another post). And, oh, as I fall in love with Ikuta Toma's acting skills, I "researched" about him too at the end and cannot help falling in love with his personality as well. He's someone who knows what he does/wants'. He's a member of Johnny's, and almost all Johnny's members become idols or release musical CDs, but he doesn't. He can sing actually. I watch some videos where he sings with other Johnny's members. He's got the talent if he wants to debut as a singer, but he chooses not to because he chooses to pursue his passion in acting. His showmanship is amazing and great. Too bad that he doesn't play too much in movies as he prefers theatrical plays where he can perform the characters live. It's sad because it's hard for a fan like me to follow what's up with him. But then it's also why I love him. It looks to me that he's not looking for fame. He's also not just jumping at any opportunity. He just loves acting and being an actor and he does his bests at that because that's what makes him happy. And strangely, some of his movies are not always that popular in Japan, but often get recognition abroad. His movies are also full of meanings. It seems to me that he really loves exploring his acting skills playing different characters. He loves such challenges.
And oh, about his personal life, he wants to get married and have some kids. I really hope he can find the one who can make him happy and with whom he can be happy. I really love him. I hope I can meet him and talk to him in person someday 😊