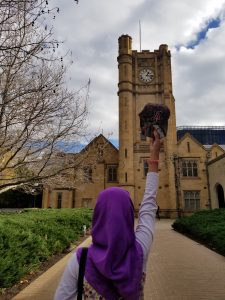 The reasons I decided to visit Melbourne were 1) it just didn't feel right to visit only Sydney, 2) I had another friend I could stay with, and 3) I kinda wanted to visit Monash university and another part of Aussie. I mean, I heard many friends are actually studying in Monash. And it turned out that one of the greatest lecturer when I was taking my undergraduate degree did her PhD in Monash. That's super cool! However, there was a little drama about my visit to Melbourne: I just couldn't find the right transport. Maybe it's my fault for not making the reservation much earlier but I was busy with some stuff so yeah, I kept putting it off. Hence, when I browsed and was about to buy my ticket to Melbourne from Sydney, it's either too expensive or it's relatively cheap but the time wasn't ideal. That's why I decided to go by a night bus. Cheaper, and the timing was perfect. I could save a lot of time spending the night in the bus and arrived in Melbourne the next morning. Perfect.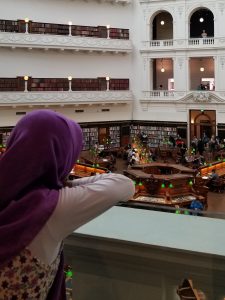 Anyway, I left Sydney on July 4, 2019 at around 7pm. I took a bus to Melbourne. Well, personally I love taking night buses for long journeys. It's relatively cheap, I can spend the night sleeping on the bus – without having to pay extra for a hostel/hotel. And it feels more convenient to take my bags with me. Going by plane is nice and it might be faster, but sometimes I don't like how I have to go through screening and security and stuff, then about baggage allowance too, it's tiring. Well, I understand it's necessary but sometimes I feel like they really take time, not to mention that it's usually more expensive. I don't like it. So I took the bus. Maybe it's a 12ish-hour journey from Sydney to Melbourne by bus since I arrived in the Coach Station the next morning, July 5, at around 6.30ish am. It's cold, and still dark. I browsed how to get to my friend's place. I'd put it in my Map before. But Victoria was amazing, they provided free wifi for the visitors in some places, so it wasn't really hard to get the information I needed. I went to a Seven-Eleven store to get the card I needed but their machine was broken, so I went inside and found the official ticket counter. I got my card, asked the staff to confirm the train I needed to take, went in to the platform, and got on the train. After getting off the train, I went on foot following the direction Google Maps gave me (Thank you, Google!) and finally found my friend's place. I wasn't sure, so I texted her to make sure. It took her some time before she finally picked up since, as she told me, she was busy cooking in the kitchen. It was damn cold but thankfully my friend quickly came and opened the door for me.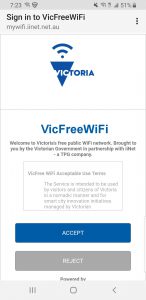 Day 1: July 5. It's basically my first day, so I didn't really have specific plans aside from taking some time for resting. Well, to tell you the truth, I didn't really have a great plan to do in Melbourne. I was having this vacation but my mind was actually worrying about my proposal defense. Sigh. So, well, I rested a bit, and in the afternoon my friend and I set out to explore the city. We just went out to my friend's campus, University of Melbourne and around. We also went to Victoria State Library. My friend said that's one of where Running Man had a shot. Running Man was a quite popular Korean show, and my friend was kinda a K-Popper. Well, I didn't know much about K-Pop or Running Man. When it comes to South Korea, my world revolves around Lee Dong Wook. That being said, I only watched Running Man episodes, where Lee Dong Wook became the guest, so I had no idea about Victoria State Library being one of the places they had a shot (because apparently, that's not when Lee Dong Wook became their guest :p ) But anyway, we tried to visit the Parliament House but it was being repaired. Hence, we just we went ahead to St. Kilda beach to see the sunset. My friend in Sydney was the one who recommended it. She said I could see some penguin if I was lucky. I wasn't. I didn't see any penguins. Then we went back, went grocery shopping, bought some ice cream/gelato (couldn't really remember which), and went home to have some rest.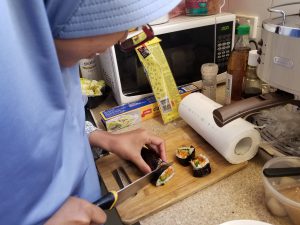 Day 2: July 6. My second day in Melbourne was initially upsetting. I mean, my friend was really concerned about making lunchbox and stuff and I really wanted to leave sooner so I could see more of the city and visited more places, so I felt kinda tense. I was upset, but I couldn't stay mad for long because if I stayed mad, my vacation would be ruined, right? So even though we finally left in the afternoon, I tried to stay cool and look at the bright side. I don't know, these days I feel like I really have to step back when I feel upset. It's because I don't want to bear the guilt for saying bad things while being upset. I'd rather tell my friend that I was upset and why, left it behind, moved on, and had fun. And that's what we did. We went to Monash university. I had another friend I knew from where I worked before. And, dang, I realized that I had more people I knew studying there. They had an Indonesian event, though, and you know, I wasn't that good with people, so I didn't tell them that I was in town. I felt bad actually, but I also had my plan, so I thought it's best not to let them know. I mean, they were busy, right? I didn't want them to feel like they had to see me just because I was in town when they had already had plans. Well, I know it's just an excuse of mine. My apologies. But, hey, my first impression wasn't that good when I first arrived in the city. The bus didn't come as scheduled. It was late. It's disappointing 😐 But, well, my friend then took me around his campus. It's HUGE! And we ate the kimbab-lunchbox we made – which made us leave quite late. It's delicious. My friend was really an awesome cook! Then my other friend drove us to Brighton beach. It's really crowded! Many people queued to get a pic in front of the house-boxes. Of course I stood in line myself, too. Haha Afterwards, we went to an Indonesian restaurant and got some dinner before finally returning to my friend's place.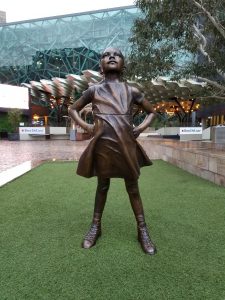 Day 3: July 7. It's basically my day out. I mean, I went out alone without my friend so I didn't have to feel like I was bothering her, rushing her, or such, and she had her own things to do as well. I went out earlier than I did the previous day. Not that early since it's winter and it's not really bright till around 8 or 9am, but still earlier than the previous day. The goal for that day was visiting the places I didn't get to visit the previous days. So I planned ahead in order to visit as many places as I could. I went to Shrine of Remembrance (this day I used my friend's card instead of mine, by the way, because she had a pass and wouldn't use it at that time). Then I went around the Royal Botanical Garden. Damn, it was so big – and beautifully designed. There are many benches – my weakness. And there were ponds or lakes, I wasn't sure but I loved it. Then I went to National Gallery, Federation Square, Yarra River, etc. Well, basically they were nearby so I just went from one place to another on foot. (Sometimes I had no idea how I could get all the strength to walk exploring those places when mostly I only ate bananas, boiled eggs, and oranges. Jeez). But, well, too bad the weather wasn't as friendly. It was drizzling a bit. So when it became dark, I just went to an Asian grocery store to get some products. My friends said it was a bit hard and expensive to get good food in Tasmania, so I decided to bring some from Melbourne. Not sure if I was really prepared or simply thrifty.
The next day, well, actually I just needed to leave for the airport. My flight was around 10.40am, and I left around 8ish a.m. Well, I originally planned to take public transport. I browsed and there were buses. I could take the tram and then got on the train and took a skybus but it sounded a bit roundabout so I decided to just take the bus. I waited. The bus never came. So I just used Grab to take me to the airport. My friend didn't know…
Well, I guess that's pretty much my Melbourne adventure. Not so exciting, maybe? I don't know, but well, I couldn't expect much from Winter…