So the other day, a friend posted this thing about happiness on his Instagram story. He resented how people always asked what we had, if we were married, if we had a good job, etc. but we were hardly asked if we were happy. So I made a poll asking whether people were happy or not. I understand that it can be relatively hard to answer. Different people define happiness differently. But I want people to really be honest in their answers. The options I gave were A. Yes, honestly. and B. No, not sure. I was actually expecting more B answers, but I'm glad that there are more A answers. I love to know that many are happy 😊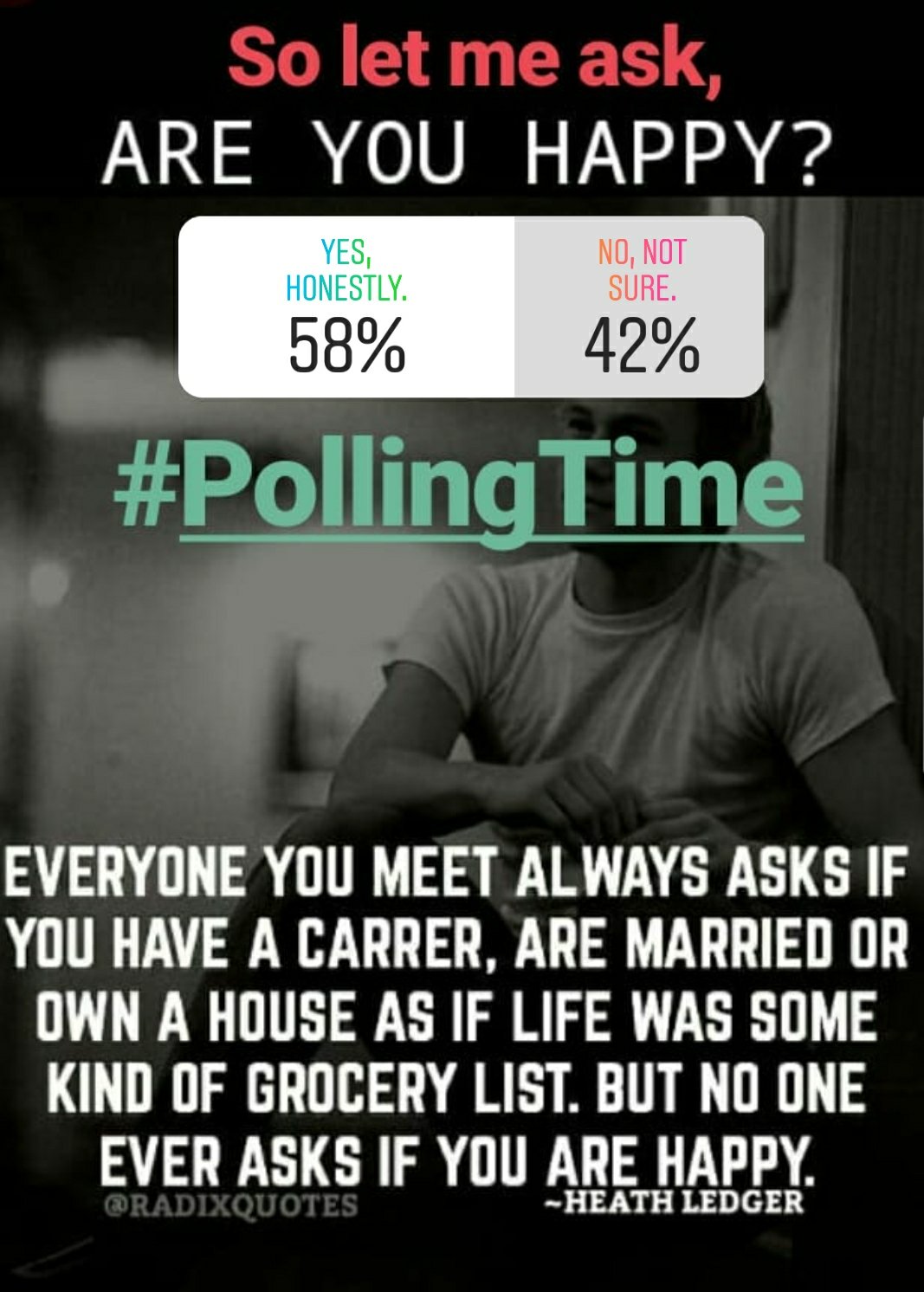 But before everybody got to vote, a friend voted and was surprised to find that the temporary result showed "No, not sure" answer. So I told her that it could be that it was because people defined it differently. Then she asked me how I defined happiness. Well, I didn't know it would be a little hard to answer 🙈 To be honest, I am not sure if I am happy, but I know that I am thankful, so here is what I told her:
"For me, happiness is abstract. Feelings can only be felt. Sometimes we can't even express it right. And It fluctuates. Sometimes we are unhappy, but we are worried that if we tell people we are unhappy they'd say that we are ungrateful even though the two are actually not the same. Fact is, we are grateful so that we can be strong enough to face those things that make us unhappy. And for me, happiness can only be measured one point at a time; we cannot generalize it to the whole or all aspects at one point of time. I get to study abroad with a scholarship. I am happy. I have so many assignments. I am sad. I am far away from my family. That makes me sad. But I know I will go back later and see them again. I am happy. Still, the wait is still long. I'm sad. Etc."
Well, I'm not sure if it answers the question. But I am just guessing that some of us are too afraid to say and admit that we are unhappy. The society often doesn't allow that. When we, for instance, say we are unhappy, some will be so quick to judge and tell us that we are just being ungrateful. They will start preaching saying, "You're so ungrateful. You should be happy, you should be grateful. You have this and that. Think of how many people who want it. Think how much they want it. Yet here you have it and still ungrateful." But like I have said so many times. Feelings are inevitable. You wont be happy just because you want to be happy. You won't be unhappy just because you dont want to be sad. So made another poll about it, wondering if some people were too scared to answer. I just wish Instagram could let me give more than 2 options for the poll. Initially I thought that there would be more people answering A or B, that would be bad for me. But I'm glad that many answer C or D. People are still trying to be happy and appreciating what they have 😊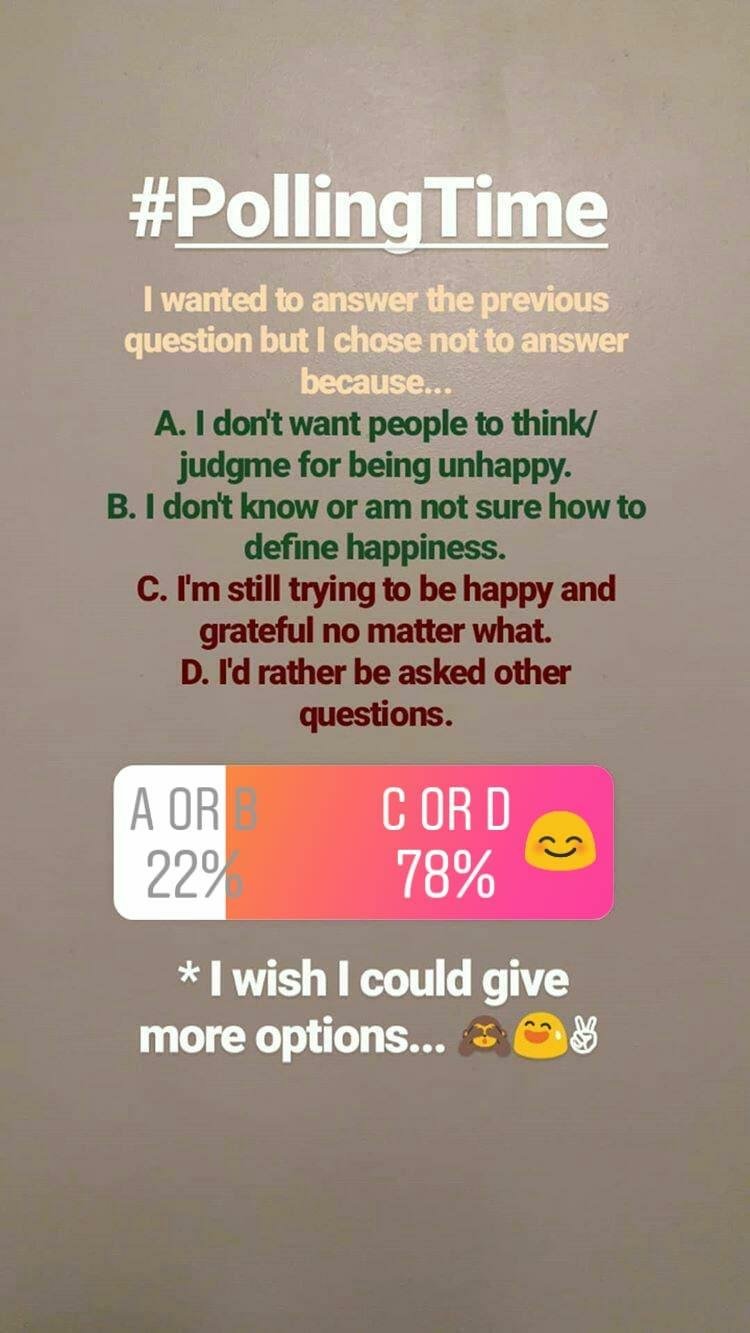 But anyway, happiness doesn't always equal gratefulness. You can be happy and grateful. You can be sad but still grateful. Being happy is being content with the way things are without wishing or expecting it could be better. Being grateful is being content or accepting the way things are, though you know or wish it could be better, but you are glad that it's not worse; you know it could be worse.
You are busy with work and study, you couldn't see your loved ones. Then you have a day off to see them or have fun with them. You are really happy that you can be with them. It's happiness. You don't wish to be with someone else; you want to be with them. You are with them. You are happy. But you realize that you have to leave them again for work and study. You are sad. You wish you could spend more time with them. But you are content and glad that at least you can still see them albeit only for one day. You know that one day is better than none. It's gratefulness.
Next time somebody says they are sad, don't immediately tell them that they are ungrateful.
PS: However, by being grateful, you'll be happier. Gratefulness gives you strength to deal with your pain/sadness, etc. It's okay to be sad, but be grateful. It'll make you stronger – and happier 😊