First of all, I do not really believe in "no judgment." I do not really buy things like "I don't judge." Let us just admit it: we all judge! We have our opinions. We have our own standards. We evaluate. We assess. We make sense of what we see, hear, experience, etc. As you're reading this writing, you're making judgment in your head: "Oh, this is confusing", "Oh, this seems interesting", "This is bad", etc. See? It's just our nature to judge so let us agree that everyone does judge.
But hold on, I'm not saying it is a good or bad thing. I'm just trying to point out some differences. People judge; the difference is some keep their judgment to themselves or "delay their judgment" and some are quick to spit out their judgment.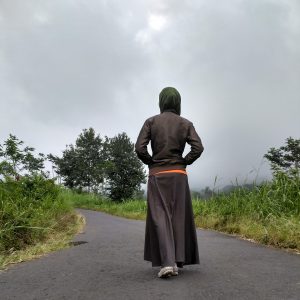 Lately I've been exposed to this idea of delaying judgment. The first story I read was about the girl and the apples. A girl had two apples, and someone asked for one. The girl then bit both apples before giving one of them to the guy. The guy was upset thinking (and therefore judging) that the girl was digusting or stingy, not willing to give him the apple. It turned out that the girl bit both apples so she knew which was sweeter, i.e. she wanted to give the guy the sweeter apple, which shows her good intention.
Another story was of a picture showing a guy sitting on a train seat, while a woman was standing near him holding her baby. When seeing the picture, some people went rampage thinking (and thus judging) that the guy was inconsiderate, that he should give the seat to the woman with her baby. Nevertheless, the real story was that the woman had been offered the seat but refused because her baby was grumpy and crying when she sat down and stopped only when she stood and thus she chose to stand holding her baby to calm her down. See? We need to keep our judgment to ourselves before knowing more of the picture. Indeed, there will be more that we do not know than what we do know.
The latest story I saw was from a Thai ad. In the video ad, it was shown that a boss in the market was trying to get her money from people/merchants who rented a stall in her place/market. Shortly, there was a scene where this lady boss was yelling and throwing a merchant's scale including taking away some of the stuff being sold by another merchant. Somebody witnessed it and recorded a video out of it. He uploaded it on YouTube, and it went viral. People watching the video showed contempt for the boss and campaigned not to go to the market so that the lady would go bankrupt. At the end of the video ad, it was revealed that the lady boss was actually yelling and throwing the scale because she was upset that the merchant was cheating on his customer. The lady boss was reminding him to do his business honestly. When the lady boss took another merchant's goods, that was also because she bought them all so that the merchant could get some money. It was also shown that actually some merchants were thankful to her that she gave her a place to do business in her market. The revelation at the end of the video ad showed the boss's kindness, which was the opposite of the viral video in the ad. (Yeah, I know, it's kinda confusing; it's "videoception", video in a video, iykwim). Anyway, the ad ends with a message that we should not look at things or make judgment from one-sided stories; with which I agree.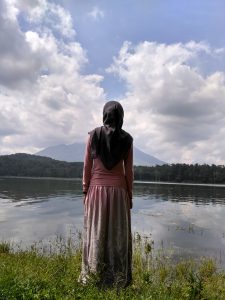 We really need this kind of reminder, a reminder to delay our judgment, especially in this digital era, where things could easily go viral through social media/networks. It's so easy for people to capture a photo or record a video portraying somebody's fault, which in reality might not be a fault if seeing the bigger picture or the whole context. Some might do it out of good intention "to remind other members of the society." Some might do it just for likes, views, etc. I don't know. I don't want to judge them, but we know that it happens. In addition, recently in my country there are also some occasions where innocent people were harmed simply because someone was (too) quick to judge. I can't really share the more detailed stories because they were horrible and I am really ashamed of and guilty for it. I resent that it happened at the first place. And it's because people did not delay their judgment. I think it's important for us to really see the better picture or the context before spitting out our judgment. And I think it's of paramount importance that we focus on improving ourselves and being kinder toward each other instead of judging each other. We have to keep in mind that whenever we judge, there is always a possibility that our judgment is wrong, which is why it's better to keep it to ourselves or at least delay until we know better for sure. And look, I know I sound like a preacher. I'm sorry. I'm just tired of living in this judgmental world. Just consider this a self-reminder, a reminder for me myself.
P.S. Another thing that we can learn from the Thai video ad that I wrote earlier is that good intentions should be expressed in good ways as well. Let's say that the lady boss was not yelling, not saying harsh words, not throwing stuff away, etc, maybe it'd be a different story. Nevertheless, who knows? Once again, it's just one side of the stories. Who knows that she's been patient enough not to yell when reminding the merchants? Unfortunately for her, the merchants just didn't listen and kept doing the same mistake. Well, everyone has their limit. That moment the guy recorded the video might be when she's lost it; when she's been pushed to her limit and lost her patience. It's possible, no?
So, well, delaying our judgment is not easy, I admit it. But again, hard does not impossible. Have you ever judged someone and regretted it? Have you ever made a judgment about someone but did not actually say it out loud and were glad that you didn't share your judgment with others because it turned out to be wrong? Well, I am just hoping that we can learn to delay our judgment; not to be so quick to judge.