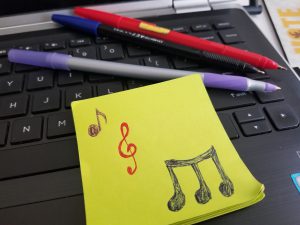 I'm not a K-Pop fan per se so I don't know much about Korean music, boybands, girlbands, singers, etc. I don't really watch K-dramas or K-movies either, except when it's of my fav actors or when somehow I happened to watch them and fell in love with the stories 😊 However, I do have some Korean songs that I love and listen to, which of course relate to the dramas that I have ever watched. Hhe 😊 So, without further ado, here are the songs, not necessarily in the order I like them.
Byul – I think I love You
I can't say that I love this song very very much, because honestly I haven't searched for its translation so I don't really know the meanings. But the song is kinda catchy and easy-listening. And the reason I listen to it is…I don't know. It just feels nostalgic. Perhaps because it's the ost of the first (?) Korean drama that was so popular at that time. It's the ost of Full House, a Korean drama. Maybe it's kinda the beginning of the rise of Korean drama? I remember I was still at high school when it was broadcasted on our TV.
Mario & Nesty – Never Say Goodbye
I love the "beats". There's a part where they rapped too. I guess it's cool. I don't know the meanings as well. Haha I just listen to it, and it's nice to listen to, so, well… But, anyway, maybe the reason I love this song is because this is kinda the ost of my first encounter with Lee Dong Wook, my all-time favorite Korean actor. Yup, it's the ost of a Korean drama called "My Girl." It was really popular at that time. I remember Lee Dong Wook even came to Indonesia for that. But I was not privileged enough to join the fans meeting. Haha Well, I don't live in Jakarta, and I don't have the money, but oh, sorry for my excuse. However, every time my idols come to my country, I always hope that the richer fans are willing to spend their money to come see them just so they can be happy ^^
Jang Nara – Snowman in May
It's an ost of my all-time most most most favorite Korean drama: "Baby Faced Beauty", and, surprise, Lee Dong Wook wasn't the one who starred in this drama. I just…love the story. Anyway, whenever I listen to this song, I feel really sad, powerless, and frustrated, probably because of the story in the drama? Falling in love with someone we think we can't have or deserve? You love each other but think that they won't be happy with you? Feeling insecure? Wanting to be selfish and happy, yet feeling guilty? You love so much it hurts so bad… That's how this song makes me feel. When I feel sad, I often listen to this song, just to amplify the emotion and make me feel that I'm not alone. That I can be strong. That it's gonna be alright at the end. Because at least that's how the story ends in this drama: a happy ending 😊 *I might be delusional, though. But that's alright, too. PS: I forget the meanings of the song, but I remember reading the translations, and yes, it's sad…
Kim Sung Hyun – So Sick
This is also the ost of Baby Faced Beauty. I'm not sure about the right title and singer actually, but that's what's written on YouTube when I looked it up. Anyway, contrary to the previous song, this one actually makes me feel loved so much. It makes me feel peaceful. You know, it feels like somebody really loves me and tries his best to make me happy. It makes me feel grateful, worthy, and happy. The previous song makes me frustrated because I feel like the one who's unable to do anything and wishes to do more but simply can't. It's frustrating. However, this one makes me feel "at peace" because I feel like I can understand, accept, and forgive. It's like, "I believe you love me, and I am happy with that. I know you've tried your best, and I'm thankful for that. If somehow this doesn't work out, it's not your fault. I'm still happy because I know how much you treasure me. You make me feel worthy." That kind of feeling. It's still sad, but more relieving. But maybe because the previous song is sung by Jang Nara, a woman, so I feel like the one experiencing it. Meanwhile, this song is sung by a guy, which is why I position him as someone that loves me 😊 It must be nice to have someone who loves me that much…
Hyun Bin – That Man
This is the ost of Secret Garden, one of my favorite Korean dramas as well. Hyun Bin also starred in this drama. He isn't a singer, so I guess he especially sang this song for the soundtrack. It's a sad song, but it doesn't make me feel as sad as the song I listed in number 3. Hhe
Kim Bum Soo – Appear
This is also the ost of Secret Garden. I really love listening to this song. It's catchy. It has those happy beats that make me happy. Optimistic. A bit playful and perhaps overconfident. Full of spirit and joy. It gives out the image of someone who is in love, and who is happy. It makes me feel happy myself, full of hope, and positive about love 😊
Alex – My Time towards You
Guess why I love this song? Because Lee Dong Wook sings a version of this song for a soundtrack of his drama: Bubblegum. But as I listen to it, I come to love it. It's neither sad nor happy. It's just calm and peaceful. It's slow, but not too melancholic. It gives this image of someone who is "composed, calming, patient, and lovely." I don't know the meanings of this song, though. Haha
Jung Seung Hwan – Fine
I've shared the YouTube video of this song before, when I wrote about Life drama. And yup, I know this song because it's Lee Dong Wook who starred in the drama. It's the last ost. if I'm not mistaken, and it's simply sad. Maybe I feel sad because of the scenes of the drama when this song was played: about the two brothers and their relationship, about how they try to support each other and make each other happy, about how they don't want to be a burden to each other. It's sweet. But sad, due to the situation or the stories that they have to go through. That's why I'm sad. When it comes to a story about family, I'm often weak… But then, even if you don't watch the drama, when you listen to this song, even without knowing the meanings, I think you'll also be touched…
Jang Geun Suk – What should I do
I don't really like this song actually. Haha In fact, sometimes I find this song upsetting. However, my sister loves the drama, of which this song is the soundtrack (I think the drama is called "You're Beautiful". I myself didn't really watch it). The reason why I sometimes feel upset when I listen to this song is that I feel the man is lame (probably because of how his character portrayed the story in the drama). He just took the wrong move/decision. He thought by letting the girl go, he would make her happy. Hfftttt I mean, it's not wrong but I don't know why, I feel like wanting him to make more efforts instead of excuses. Hfftttt "If you don't want her to go, if you want to stay with her, then go after her, damn it! You know she loves you too!" That kind of feeling. LoL
Jang Nara – Ost. Good Morning Shanghai (There are two songs that I like but I don't know the right/exact titles)
It's actually not Korean songs. It's Chinese/Mandarin, I guess. But sometimes I listen to the songs just to remind myself of that time when I just had a new rather big TV with parabolic antenna, which finally enabled us to have many TV channels to watch. And at that time, I accidentally came across this drama called "Good Morning Shanghai." I don't even remember how the story started or ended, because I just watched it on TV randomly and occasionally. But I love Jang Nara, that's why 😊
But, well, I guess that's the only Korean songs that I know, love, or listen to. Other than those, I have no idea. Well, sure I know BTS, EXO, Super Junior, Twice, Blackpink, etc, but I just know the names and the fame, not the actual songs, and not the actual profiles of each group. Hhe 😊 But I think it's wonderful, though: how music can make us feel a certain way, even though we don't always know the meaning. It can make us feel happy, sad, upset, frustrated, etc. Either because of the beat, the way the singer sings it, the story it reminds us of, etc. It's beautiful 😊