The international airport at Manila, Philippines – Ninoy Aquino International Airport – was kinda small for me, even smaller than the one I had at home, either in the international airport of Juanda, Surabaya, Indonesia or Tucson international airport in Arizona, USA. But I didn't browse to really compare them, this is just based on my personal impressions.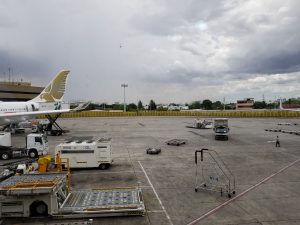 The first thing I did was, of course, finding the restroom. It was quite clean, almost the same like the toilets in the US but in the Philippines they had the handheld bidet/spray, like the ones we had in Indonesia. This is good for those who are not comfortable cleaning ourselves only by using toilet tissue. However, later I found that not all toilets that provided toilet spray also provided the toilet tissues like the ones in the university I was attending the conference at. This was a very serious issue for me and I really have a problem with this. If the toilet has bidet spray or anything that has to do with water, I think it's a must that they provide a tissue. Otherwise, how are we supposed to dry ourselves after using the spray? If they won't provide any toilet tissues in the toilet, then they don't have to provide the bidet or water, just provide the tissues like they do in the US, something like "dry toilet" concept. That is more acceptable for me. Toilets that provide bidet spray with no toilet tissues are just, yew, making me feel even dirtier. No offense, but it's my personal preference. And by the way, because the airport was small, and there were not so many flights by the time I landed, so when I went to the toilet, it wasn't that crowded, the line was not really long. It was great. However, I noticed that even the sink was "American standard". I don't know why they had to use American standard. Probably it had to do with the history they had with the US? O.o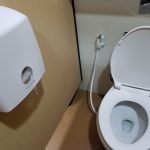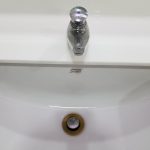 Then I headed to the exit to get through the custom and immigration counters but it was really quiet. There were not many people. It was not big at all. I mean, I couldn't even find any escalators, lifts, or moving walkway/sidewalk/walking escalator/whatever-you-call-it in the airport. So it's just walking, a not very long one. The security wasn't that scary either. I mean, normally even if we didn't bring anything illegal, somehow we (or maybe just me. LOL) felt nervous when facing the security. But when I came to the immigration counters, there were only around 4 or 6 counters if I remember correctly. They had half of the lines for the Philippines passport holders, and the rest was for foreign passport holders including those from ASEAN countries. However, there were almost nobody in line, probably only one or two. I went to line up for the foreign passport holder counter, but the officers were not there. There was only one counter in which the officers were available, and that was not for the foreign passport holder. So I was kinda hesitating whether to change lines or if I should wait, but I hated waiting and I had no idea when the officers for the foreign passport holder counter would be available, so I just brought myself to go to the only available immigration counter, which was for Philippines passport holder. I, of course, asked first where the officers in the other counters were. I told them I was a foreign (ASEAN) passport holder but the officers were not available for the counter. Then they said they'd just handle it there -_-"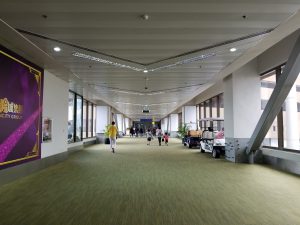 They asked for my passport and my ticket to show that I wouldn't stay there forever. (Seriously, Indonesia is my only home country, wherever I go, I would certainly go back there. I have never thought of staying in other countries illegally. Jeez. But okay, I know they're just doing their job). Then they asked what I went there for. I said for a conference. They asked if I had the invitation letter. Glad that I was prepared for this. I had printed out the email of notification of acceptance from the committee. They also asked where I would stay. I had prepared it as well, so I showed them my receipt of hotel reservation. Well, seriously, it was more troublesome than what I had experienced in Japan. I might have been biased, though. But in Japan, the officers looked professional and serious – but nice. Here? Only one counter had the officers available, and it felt like they were trying to scare me. I wasn't scared, though. Maybe I was just being rebellious, I don't know. But I've got every document they might need prepared so I was okay. They let me in.
After that was the custom declaration part. Again, only one door was open for that, and it was for Philippines passport holder. The line for foreign passport holder was closed, so how was I supposed to get out? I was walking back and forth there looking confused and I clashed sight with an officer or security and I kinda gestured him asking what I should do or where I should go, and he just signaled that I could just go out through the only lane open, the one for locals. Jeez, why should they distinguish the lanes for locals and foreigners then?! But well, they didn't even check my belongings! I mean, I know I didn't have checked baggage. It was only a carry-on (backpack) and a personal item (handbag). Still, usually they still checked or at least asked. (They did it later in the Dallas FW, US airport). But here in the Philippines, they didn't. I am glad, though. Not so much hassle. I was just wondering.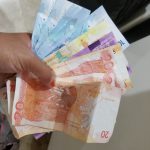 Then I went to the foreign currency exchange counter. When I browsed, people said there were three, but as I recall, I could only see two. I decided to go to the one closest to where I was exiting. I exchanged USD $240. I forgot to keep the receipt but I guess I got around 12645 PHP (Philippine Piso). And later when I was leaving Philippines, I exchanged the remaining piso back to the USD. I still had 6780 PHP (after securing some for my coin and currency collections) and they gave me USD $126 and 45.30 PHP. So for my stay from May 30 to June 4, I spent around USD $114, not including the hotel. Not bad. Hhe
Then I went to the information center, asking them how I could get to my hotel. (Remember I asked the hotel to pick me up but they offered a shuttle service with 1000 PHP fee so I refused because I browsed and thought that it could be cheaper some other ways?) Then the lady said that I could just use Grab. I was surprised, because normally such online transportations were not allowed in airport premises. But I was happy, it means I didn't have to be worried about being overcharged because I read some of the reviews where the taxi drivers in the airport charged people way too expensive. However, I was glad nobody was offering me such service so I could mind my own business. (You know what I don't like about Indonesian airports? As soon as I exited, many would storm at me offering travel or taxi service, and I found it really suffocating. Well, at least I didn't have to experience that here, so I was happy).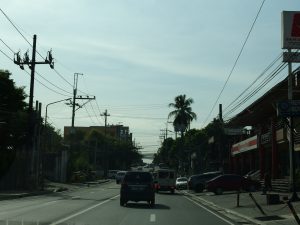 And by the way, I didn't have Grab app with me because they don't have Grab in the US, so I started downloaded it right there in the airport. T-mobile roaming service still worked, thankfully, albeit not as fast as in the US and Japan. It was kinda slow. But I was glad that they did have a counter in the airport, so I just went to their counter (Grab) and told them where I was going. I should queue because there were some people in line. The counter guy had many cellphones on his desk and he was busy making calls, probably calling the Grab drivers if they could pick the order, and so forth. And for me? He asked me my phone number, I gave it to him, and I got the order notification sent to my phone. The fee was 510 PHP and when I asked, he said I could directly give it to the driver later. Then I should wait again for the car to come. And when it did, I just got in.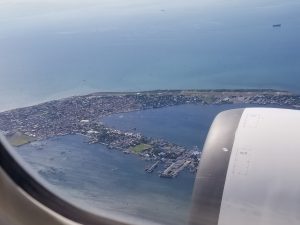 PS: There was this funny story when I was in Manila airport. I was in line, then the officer asked if I had a checked baggage, I said no. So he asked me to check in first (I didn't need to queue like the others). Then when I was about to get the boarding pass, the counter guy asked me if I had US visa, so I showed him my visa. I also requested to get a window seat, and wow, I got window seats for both my flights from Manila to Japan and from Japan to USA. How lucky! Then I passed through the screening security and went to my gate. It wasn't open yet and they asked me to wait somewhere else. But I understand because I came too early. (Because I didn't know what else to do in the Philippines. LoL). Then I saw some people were allowed to get in (they checked our belongings/bags again), so I approached the gate, too. They checked my baggage and let me in. I went straight to where not many people were sitting. There were two parts, one part on the left was crowded and so I went to the right side, where it was not so crowded. The lane was not really open widely actually, but I was slim so I could get in easily. I enjoyed my time there, even charged my phone, (and maybe made a call, too, I forgot), but then I realized that I shouldn't have been there. It was the lounge – the waiting seats for business class. My ticket was economy! Gosh, I was so embarrassed. Maybe the flight attendants have been talking about me. Maybe the other passengers wondered how a little girl like me traveled with a business class. Gosh, it was so embarrassing, but I've got to face it. I had to admit my fault. So I slowly walked out, told the officers that I was sitting on the wrong side and said sorry, and moved to the left side, where the seats were provided for the economy-class ticket holders. I felt so awful. I felt like disappearing from the world. Like, how could I? But let me make an excuse: Usually they only provide one or two rows of seats for business class or priority people, but this one was one lounge! So many rows with so few people. Why should they do that? The seats were wasted! *Sigh It was awful and I was really embarrassed.